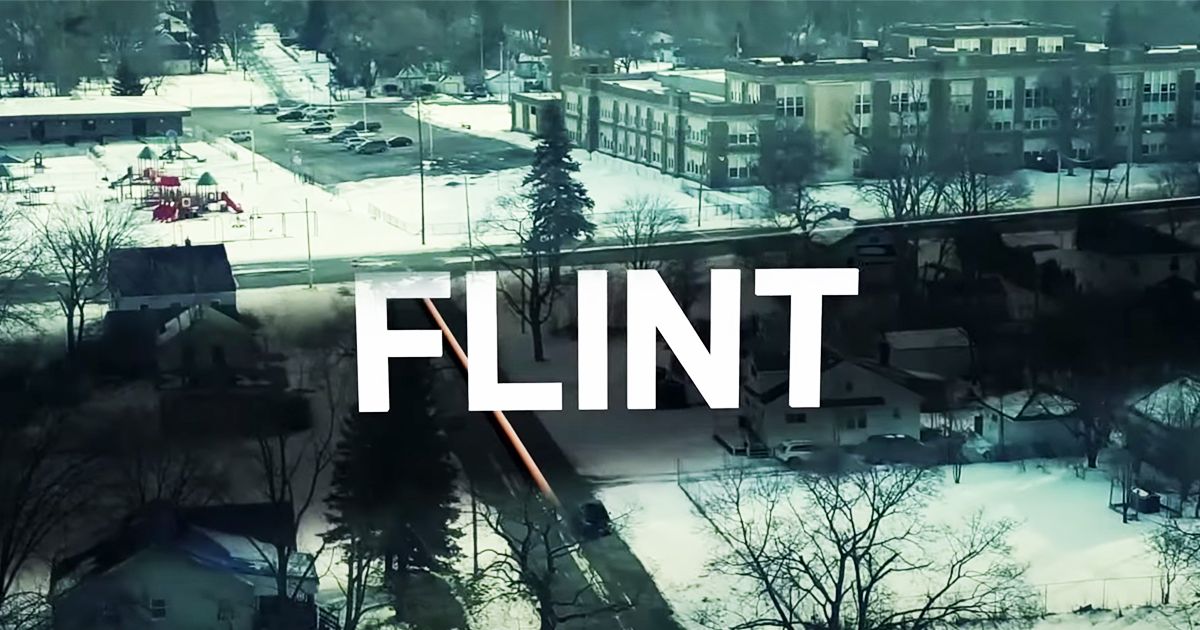 On April 25, 2014, the City of Flint, Michigan switched its water supply from Lake Huron to the Flint River. This change was forced on the local municipality by then Governor Rick Snyder to save $5 million dollars. It was a catastrophic mistake that resulted in an unparalleled American public health crisis. Flint documents the mass lead poisoning of thousands on a ground level from the beginning. Renowned filmmaker Anthony Baxter interviews the residents, scientists, outside influencers, and politicians involved over a five-year period. He follows up in 2021 with a look at the city's current state. Alec Baldwin narrates.
Flint takes you on an infuriating journey. Citizens had to organize against government failure, ineptitude, and criminal deception. The fallout has changed their lives forever. Lead poisoning resulted in fatalities, birth defects, miscarriages, cognitive decline in children, hair loss, and skin diseases. Identifying the truth was just the start. Dealing with no water in an economically depressed area becomes another epic tragedy. The film takes an unexpected turn as an initial hero becomes a surprising adversary.
MOVIEWEB VIDEO OF THE DAY
Backslapping Officials and Cost-Cutting Measures
Baxter begins with footage of backslapping officials pressing the button at the Flint water plant. A beaming Governor Snyder lauds his cost-cutting measures. Six months later, Tammy Loren notices that her children are covered in rashes and noticeably more tired. She's losing clumps of hair. Melissa Mays decides to reach out to her neighbors. Everyone can see and smell the brown water coming from their pipes. The Flint River has been horribly polluted for a hundred years. The remaining General Motors plant issues a statement that the water is corroding their parts. Mays organizes with local church leaders to independently test the water. No one believes government findings that the water is safe. People are getting sick.
Melissa Mays contacts Professor Marc Edwards at Virginia Tech. He and his students sample the water from the Flint River and discover alarming levels of lead. They send out test kits to over three hundred homes. The true scope of the disaster is now apparent. Corrosive elements in the river are stripping lead from the city's pipes. Dr. Hanna-Attisha tests children exhibiting symptoms of lead poisoning and is distraught by the findings. Less than two years after the switch, Governor Snyder has to declare a state of emergency. Flint reverts water collection back to Lake Huron, but the damage has been done.
Related: The Aviary Review: No Escape From Twisted Mind Games
Response to the Crisis
Cargo Film and Releasing
Flint's second act handles the response to the crisis. Frightened residents had to depend on bottled water. Governor Snyder only allows one case of water per family each day. Baxter shows the tremendous difficulty of this rationing. Older people had no way to get the water. Government-issued filters couldn't fit the pipes in many homes. Families with multiple children could not survive on a case of rationed water. Volunteers from across the country arrive in droves with a media firestorm. Class action lawsuits are launched. Governor Snyder and his team are excoriated. Residents demand criminal prosecution.
The arrival of Scott Smith with the non-profit Water Defense increases volatility. The group founded by actor Mark Ruffalo challenges the government's assertions that the water has been fixed. Baxter films Scott Smith going into homes for air and sponge tests of the water. Marc Edwards brands him a fraud who isn't a scientist. He starts to work for Governor Snyder; which causes shock and dismay in Flint. The man who many viewed as an indispensable advocate was now branded a traitor. Baxter interviews Marc Edwards throughout the years. His support of Snyder's claims that the lead pipes shouldn't be changed is incendiary.
Flint's final act disheartens. The Marc Edwards versus Scott Smith debate spurs further distrust. Its conclusion leads to more conflicts between people who were initially allies. The suffering people are hit with another astonishing disclosure from Snyder's government. What little faith is left completely evaporates. Flint's residents twist in the wind with no real answers. They know one fact to be true. Stay away from the water; while still paying the highest utility bills in the country.
Baxter (You've Been Trumped, A Dangerous Game) does an excellent job capturing the sorrow and desperation of the Flint water crisis. The town is a conflux of America's issues. The people are poor, primarily black, and literally can't afford to leave. A sobering interview has a woman whose house is only worth $6 thousand dollars. Who would buy a home in a town with polluted water? Baxter revisits Flint to find rampant misery. Their plight is no longer on television and everyone still relies on bottled water. Criminal charges have been filed but no one has spent a second in prison. Children are now studied for long-term lead exposure. A city that once embodied the American dream has faded into despair.
Flint is a production of Montrose Pictures and the BBC. It will be released theatrically on April 29th, eight years after the water switch, by Cargo Film and Releasing.
Directors Who Should Direct the MCU Fantastic Four Film
Read Next
About The Author
Julian Roman
(1517 Articles Published)

Julian Roman has been with Movieweb for nearly twenty years. An avid film buff, he feels lucky to have interviewed and written extensively about Hollywood's greatest talents. In his spare time he plays guitar, treasures good company, and always seeks new adventures.
You can view the original article HERE.