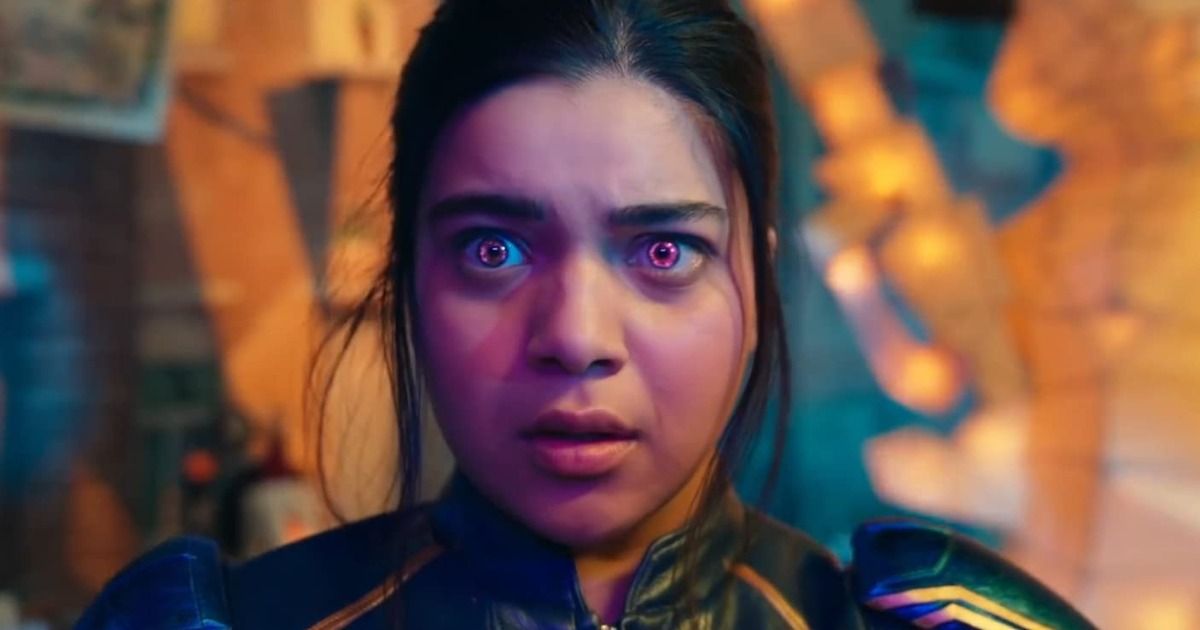 Ms. Marvel wraps its first season on an uneven note with the usual MCU cliffhangers. The journey of Kamala Khan (Iman Vellani) from nerdy Pakistani-American high school student to butt-kicking superhero hits a bullseye at its targeted demographic. The social media fixation, chirpy on-screen visuals, and girl power themes resonate with the Snapchat and TikTok oriented generation. The series also deserves credit for portraying an Islamic family, their culture, and history in a positive light. It wins the diversity and inclusion merit badge. That said, the overall narrative is loaded with contrivances and weak subplots. The poorly written villains bumble about in stale action scenes. Ms. Marvel is the first MCU series that doesn't quicken your pulse.
MOVIEWEB VIDEO OF THE DAY
Spoiler WarningThe premiere, "Generation Why", has sixteen-year-old Kamala, a Jersey City native, wanting to attend the first AvengerCon. Kamala idolizes Carole Danvers aka Captain Marvel. Her strict mother, Muneeba (Zenobia Shroff), won't let her attend without a chaperone. Her father, Yusuf (Mohan Kapur), wants them to go dressed as the Hulk. An embarrassed Kamala decides to sneak out with the help of Bruno (Matt Lintz), her adoring bestie and costume designer. Kamala adds a strange bangle sent by her grandmother, Sana (Samina Ahmad), from Pakistan. Kamala is stunned when the bangle gives her superpowers to save her school's most popular student, Zoe (Laurel Marsden), during a freak accident at the convention.
Episodes two and three, "Crushed" and "Destined", gives context to Kamala's abilities. Her hottie love interest, Kamran (Rish Shah), reveals himself as a Djinn. His mother, Najma (Nimra Bucha), and her followers, come from the Noor Dimension. They are part of a group known as the Clandestines. They were trapped on Earth, along with Kamala's great-grandmother, Aisha (Mehwish Hayat), in 1942. The Noor energy in their bodies keeps them young. Aisha vanished with the bangle, a device that channels Noor energy, and can open a portal back home. Kamala, as a Djinn and Aisha's relative, can use the bangle's power to manipulate Noor energy.
Bruno warns Kamala that cracking the barrier between dimensions will destroy Earth. Kamala's reticence unleashes Najma and the Clandestines true nature. Kamran warns Kamala that his mother will kill to get the bangle. The Clandestines attack during Aamir's (Saagar Shaikh), Kamala's older brother, wedding. She manages to fight them off. The Clandestines are captured by the Department of Damage Control and their stern leader, Agent Deever (Alysia Reiner). Kamala sees a vision of a train during the battle. She receives an urgent call from Sana, who also saw the train, to return to Pakistan immediately.
Episodes four and five, "Seeing Red" and "Time and Again", has Kamala and Muneeba in Karachi. Kamala meets the Red Daggers, an organization formed to fight the Clandestines. Kareem (Aramis Knight) warns they cannot break the Veil of Noor. The Clandestines easily escape the Damage Control prison. Najma disowns Kamran for alerting Kamala to their plans. They confront Kamala and Kareem in Pakistan. During the battle, Najma strikes the bangle.
Kamala is transported back in time to 1947 India. She witnesses the British partition of India and the creation of Pakistan. Aisha met Hasan (Fawad Khan) and gave birth to Sana. They flee with other Muslims to Pakistan. Aisha gives Sana to Hasan and implores him to make the train. She's then stabbed by Najma for betraying her kind. When Sana gets separated from Hasan, Kamala leads her back to Hasan using the bangle. Aisha gives Kamala a picture of their family before dying. When Kamala transports back to the present, the Veil of Noor is broken. The Clandestines are killed as they try to return home. Najma sacrifices herself to close the crack, but gives her power to Kamran with her last breath.
Ms. Marvel Season Finale
Disney+
The season one finale, "No Normal", is unfortunately the worst episode. An injured Kamran and Bruno hide from Deever's agents. Kamala returns home to find them on the run. The teens band together, along with Zoe and Nakia (Yasmeen Fletcher), the third bestie of Kamala and Bruno. They make their stand at the high school. Kamala plans to distract them so Kamran can flee to Pakistan. He attacks Damage Control with his new powers. Kamala is forced to fight him. She calms him down, but they are surrounded by Deever and Damage Control. Kamala elongates her body to destroy Damage Control's weaponry.
Mosque members and Jersey City residents circle the teens to protect them. Kamala smashes a hole to the sewers, which allows Kamran to hide and leave. She then uses her powers to run into the sky. Deever's shut down by her furious boss. She disobeyed orders by attacking the children. Bruno, who's going to CalTech, explains to Kamala the reason for her powers. She has a mutated gene that differs from her relatives. At home, Kamala is embraced by her family as a hero. Muneeba makes her a new costume. A proud Yusuf calls her "Ms. Marvel", a moniker she gladly accepts. During a mid-credits scene, the bangle activates and teleports Kamala away. A confused Carole Danvers (Brie Larson) appears in Kamala's bedroom. A card states Ms. Marvel will return in The Marvels.
Kamala's disappearance, switch with Carole Danvers, and her big reveal as a mutant opens many possibilities. Patrick Stewart's "Professor X" appeared in Doctor Strange and the Multiverse of Madness. Could Kamala be headed for an Avengers/X-men crossover? We also have different members of the Young Avengers brewing with Kate Bishop, Wiccan, and Speed as newly established characters. The MCU is smartly building a younger stable of superheroes that can weave in and out of multiple franchises.
Ms. Marvel's Clear Focus
Disney+
I fully understand that older men aren't the target audience. The show has a clear focus on representing girls and bringing multiculturalism to the MCU. This was admirably done throughout but especially pertinent in episodes four and five. I applaud the history lesson about the British Partition of India. It tore families apart and caused a conflict that still reverberates.
My thoughts on Ms. Marvel's first season are mixed. The Clandestines and Damage Control are one-note characters. They pop up to provide antagonistic elements. Would it have been that hard for Najma to find a young Sana and the bangle? The scenes of Damage Control storming through the mosque are overtly political and heavy-handed. It's unfair to show all Muslims in a negative light. The same respect should also be given to the agencies that protect America.
The best MCU series and movies can be enjoyed by all ages. The teen angst, boy crushes, and high school social dynamics often felt like a Nickelodeon show. I also found the superhero visual effects and fight scenes to be underwhelming. The creativity went to the bells and whistles imagery like a Snapchat filter. Ms. Marvel needed to have better writing on these issues for a broader appeal. Iman Vellani is a capable lead actress. She'll grow the character in hopefully better and more concise future installments.
Ms. Marvel is a production of Marvel Studios. All episodes are available to stream exclusively on Disney+.
You can view the original article HERE.