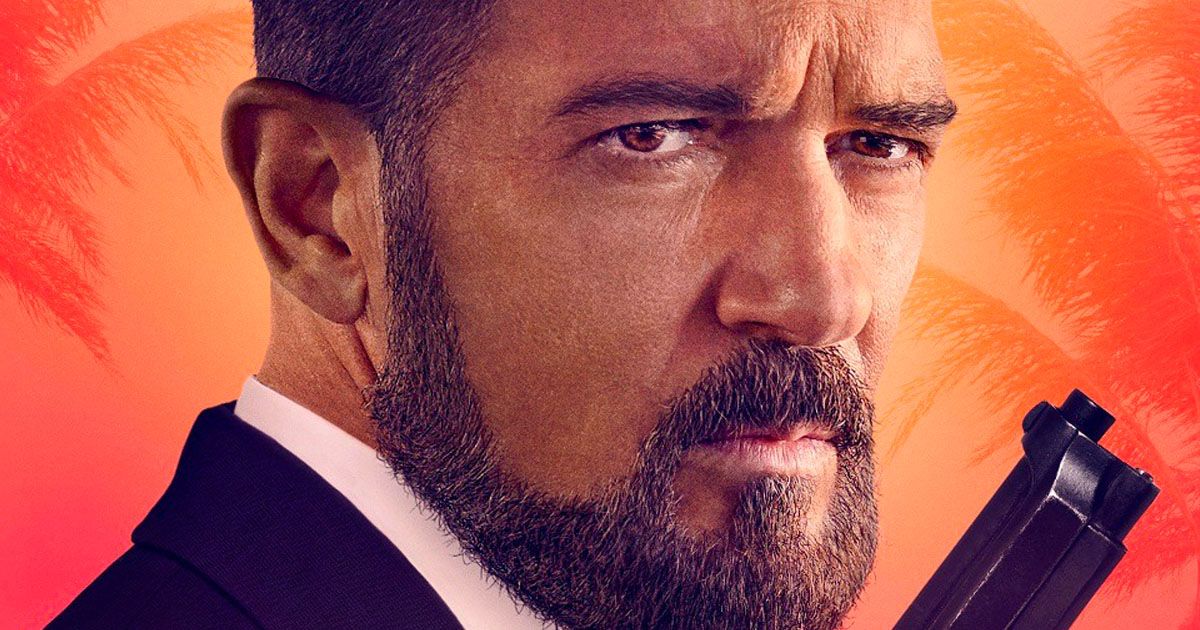 A hit man (Antonio Banderas) develops a conscience after meeting a street fighter (Mojean Aria) and runaway girl (Zolee Griggs) in The Enforcer.
Screen Media Film
A recently paroled hit man develops a conscience after meeting two very different strangers. The Enforcer gets an acting booster shot from a compelling Antonio Banderas lead performance. He's believable as a killer who reaches an inflection point. What could have been a clichéd, B-movie actioner engrosses with neon noir imagery, brutal beat downs, and bullet-riddled heroics. Kate Bosworth also stands out as the ruthless gangster that holds the scumbag leashes. She's effective playing against type. There are several glaring editing issues but not enough to torpedo the overall entertainment value.
MOVIEWEB VIDEO OF THE DAY
The Enforcer opens with a blood-soaked Cuda (Banderas) staring wistfully on a sunny beach. We are then introduced to Stray (Mojean Aria) as he pummels a much bigger opponent in a bare knuckle fight. A goon sees promise and invites him to a Miami meeting with the big boss. Stray strikes up a conversation with Lexus (Alexis Ren) while waiting. She's also a pawn of the cold-blooded Estelle (Bosworth).
Stray is sent on his first collection with Cuda. He quickly learns that Cuda is the last man that Estelle's enemies see. Cuda attempts to reconnect with his daughter, Lola (Vivian Milkova), at her school. She didn't know her father was out of jail and wants nothing from him. A disappointed Cuda hoped to celebrate her sixteenth birthday.
Cuda's life changes watching Billy (Zolee Griggs) get caught shoplifting. He recognizes she's a runaway around Lola's age. Cuda buys her food and week's stay in a dingy motel. Meanwhile, Estelle has a new assignment for her collection team. Freddy (2 Chainz) runs a trap house where women are kidnapped, drugged, and prostituted. He makes a fortune broadcasting his despicable activities on the dark web. A disgusted Cuda and Stray remind Freddy that Estelle always gets her cut. Cuda visits the hotel to check on Billy but finds her room trashed and the girl missing.
Related: Don't Worry Darling Review: Olivia Wilde's Sophomore Slump Thriller
An Odd Pairing That Works
Cuda and Stray are an odd pairing that actually works. Aria, a dead ringer for Aaron Paul, respects Cuda as a mentor. He's a street brawler trying for a bigger score. The grizzled Cuda warns him to find a way out while he can. Cuda's lucky to have survived this long. Stray finds meaning with Cuda and a connection to Lexus. But they're all slaves of a cruel master. Estelle is an alpha predator who crushes competition and dissent.
The Enforcer is not a wall-to-wall action film. Richard Hughes, a famed commercial director, makes the correct narrative decision with his feature debut. He gives Banderas time to establish Cuda's character and change of heart. This is a critical choice in a brisk ninety minutes. Hughes has a few bewildering editing cuts during the second act. I think this is where he decided to lessen the action and let Banderas carry the emotional weight. Cuda won't allow Billy to be sexually exploited. Stray has his back against their wicked boss. Banderas brings comradery to the ensemble.
The Enforcer surpasses typical genre films with a modicum of depth. The audience gets a filled violence quota but also cares about the characters. A surprisingly poetic ending further differentiates from the usual B-movie dreck.
The Enforcer is a production of Born to Burn Films, Millennium Media, and Nu Boyana Film Studios. It will have a VOD and theatrical release on September 23rd from Screen Media Film.
You can view the original article HERE.