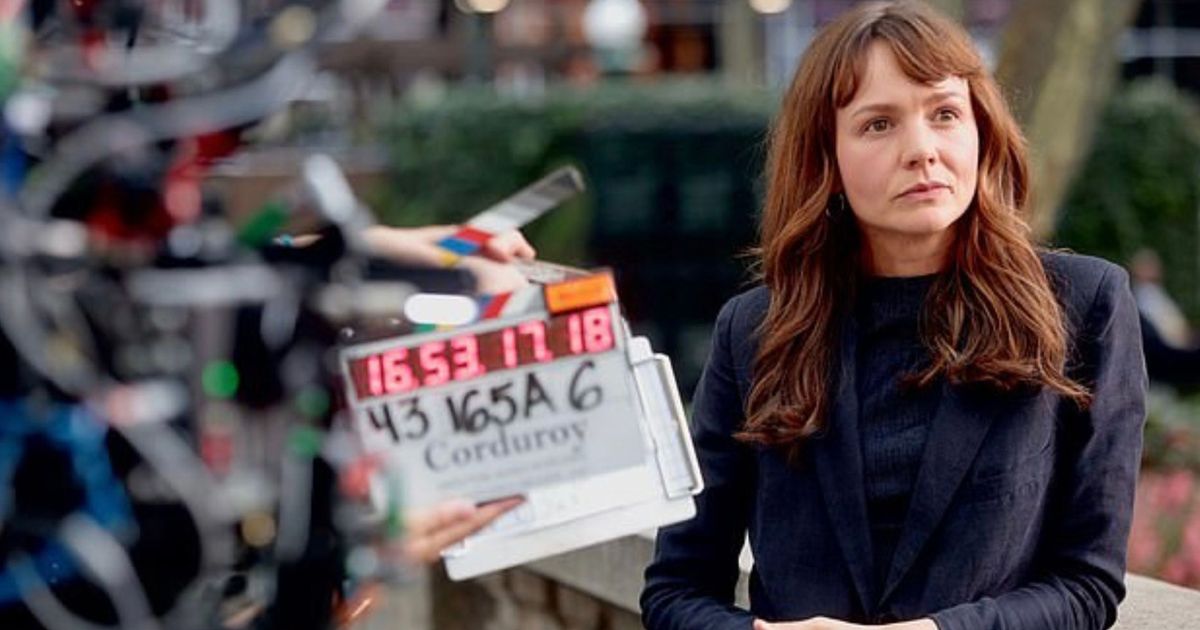 A tremendous amount of care went into making She Said. It pulsates through every frame of director/Emmy winner Maria Schrader's (Unorthodox) powerful film. Written by Oscar-winner Rebecca Lenkiewicz (Ida), the movie is based on the painstaking New York Times investigation of movie mogul Harvey Weinstein by Jodi Kantor, Megan Twohey, and Rebecca Corbett, and the bestseller, "She Said: Breaking the Sexual Harassment Story That Helped Ignite a Movement," written by Kantor and Twohey.
After months of investigating Weinstein, uncovering, and confirming reports of decades-long harassment and sexual misconduct, reporters Kantor and Twohey, along with Corbett, who was assistant managing editor at the New York Times at the time of the investigation, the women broke the Weinstein story, breaking decades of silence around the subject of sexual assault in Hollywood.
MOVIEWEB VIDEO OF THE DAY
The result, along with Ronan Farrow's Weinstein expose, eventually fueled the fires of the #MeToo movement. Three days after the New York Times story dropped, Weinstein was fired from the Weinstein Co. Flashforward to February 2020, and Weinstein is found guilty of a criminal sexual act in the first degree and third-degree rape and would go on to be sentenced to 23 years in prison. Another trial, in which Weinstein faced 11 charges of rape and sexual assault began last month—an L.A. judge overseeing the sexual assault trial dropped four of the 11 charges against Weinstein on November 15, when prosecutors announced they wouldn't move forward with counts connected to one of the accusers.
That said, it's a bit mesmerizing to sit through She Said and witness the depth of commitment and risk Kantor and Twohey, and their editorial ally Corbett, experienced. This is as much a gripping newsroom drama—right up there with Oscar winners All the President's Men and Spotlight—as it is a form of art that validates those who have been silenced.
Grounding the Story in Reality
Two-time Oscar-nominee Carey Mulligan (Promising Young Woman, An Education) and Zoe Kazan (The Plot Against America, The Big Sick) take on the roles of Twohey and Kantor, respectively. The actresses disappear into their characters, effectively capturing the ever-busy reporters, who are working on individual stories when we meet them. We also glimpse their personal lives. Twohey is pregnant and becomes a mother, Kantor is a mother. Their marriages are solid. Patricia Clarkson—always on the mark—steps into Corbett's shoes in a noteworthy performance. As mentor and occasionally cheerleader, Corbett becomes a vital ally as the tale unfolds.
Schrader does many great things right with She Said, but the most effective creative element she employs is keeping the film grounded and matter of fact. The film opens in 1992 in Ireland. A young woman assists on a movie set. Cut to: she's running for dear life down a city street. Something happened. And it wasn't good.
From there, the first 15 minutes of She Said are somewhat ethereal and breezy. Scenes don't last more than a minute or so. The director carefully dips us into Twohey and Kantor's world, and the New York Times universe, a bustling modern newsroom overseen by Dean Baquet (Andre Braugher), the publication's executive editor. Braugher reportedly watched The Fourth Estate, the 2018 documentary series about the Times' coverage of the White House to prepare for the role. These beginning moments of She Said lay the foundation for a story that eventually illuminates humanity—here, in reporters, in editors, in women, and women who have been silenced.
Related: The Wonder Review: A Haunting Exploration of Oppressive Faith
Raising the Stakes
Universal Pictures
As the film ventures past the 30-minute mark, things expand. More is at stake. Kantor seeks Twohey's help in a story she's working on about harassment in the workplace, specifically claims of Weinstein's misconduct. Twohey is intrigued, but she's battling postpartum depression following the birth of her daughter—in real life, both Mulligan and Twohey battled postpartum. Still, it jolts her enough to step back into the newsroom, but what an investigation to take on following postpartum. Reports of dropped cases against Weinstein, NDAs, and payouts emerge.
The issue: Kantor wants to know what she can do to get women to speak up and go on record. Hollywood names linked to Weinstein's acts are dropped: Rose McGowan, Gwyneth Paltrow, and Ashley Judd, who portrays herself in the film. Judd claims that Weinstein "torpedoed" her career after she refused his advances, but she's not certain if she'll go on the record. Yet.
The reporters venture forth nonetheless, showing up on doorsteps, talking to former heads of Miramax, the studio Weinstein launched with his brother, Bob. Can they chip away at the Weinstein iceberg enough to get to the truth and hope individuals feel safe enough to speak up.
Potential breakthroughs emerge in the form of former Miramax worker Laura Madden (Jennifer Ehle), whose battling breast cancer in Swansea, Wales, and Zelda Perkins (Samantha Morton in fine form), who was young assistant at Miramax's London offices when fellow employee, Rowena Chiu, confided that she'd been assaulted by Harvey Weinstein. But again, will the women go on the record?
Deep into the movie, you realize how well Schrader depicts the lingering effects of trauma, and how it can decimate somebody's life.
Related: Exclusive: Anna Diop Says She Hopes Nanny Generates Deeper Empathy for Immigrant Workers
Capturing a Fractured Era
Universal Pictures
The Oscar-winning producers of 12 Years a Slave, Moonlight, Minari, Selma, and The Big Short are behind She Said. These filmmakers, along with the pairing of Schrader and Lenkiewicz anchor the film. Audiences are in capable hands here. Interesting to note is that Brad Pitt serves as one the producers, alongside Megan Ellison and Sue Naegle.
Schrader does a stellar job capturing the high stakes, the immense paranoia, and the endless brick walls reporters often face when investigating stories. It's a testament to investigative journalism. We're presented with a story we all thought we knew about Weinstein, but through the newsroom lens—and, specifically, the women bringing the Weinstein story to light—we realize we didn't know all that much at all. How refreshing it is to experience, no matter how dark and painful the details are. Fittingly, Weinstein is never seen on screen, and apparently great care went into sharing the actual "testimonies" of victims.
Some critics may balk that there's a bit of unevenness in She Said, but I found its streamlined storytelling approach a major plus. And the bravery, sacrifice, commitment, and determination of Twohey and Kantor is something to marvel here. Brought to life with nuance and depth by Mulligan and Kazan, it's hard not to find the characters to be superhuman forces of nature, determined to get the job done. Folks may want to Google the two reporters and read their previous works, which often feature impeccable reporting.
In an era where media has become a flurry of bloated opinions and talking heads, She Said emerges as a remarkably sane and straightforward illumination of what's possible when reporters—and human beings—just do the right thing. Like Spotlight, She Said captures a fractured era where, against all odds, a few beleaguered yet determined liberators inspire necessary change.
She Said comes to us from Universal Pictures and hits theaters on November 18.
You can view the original article HERE.