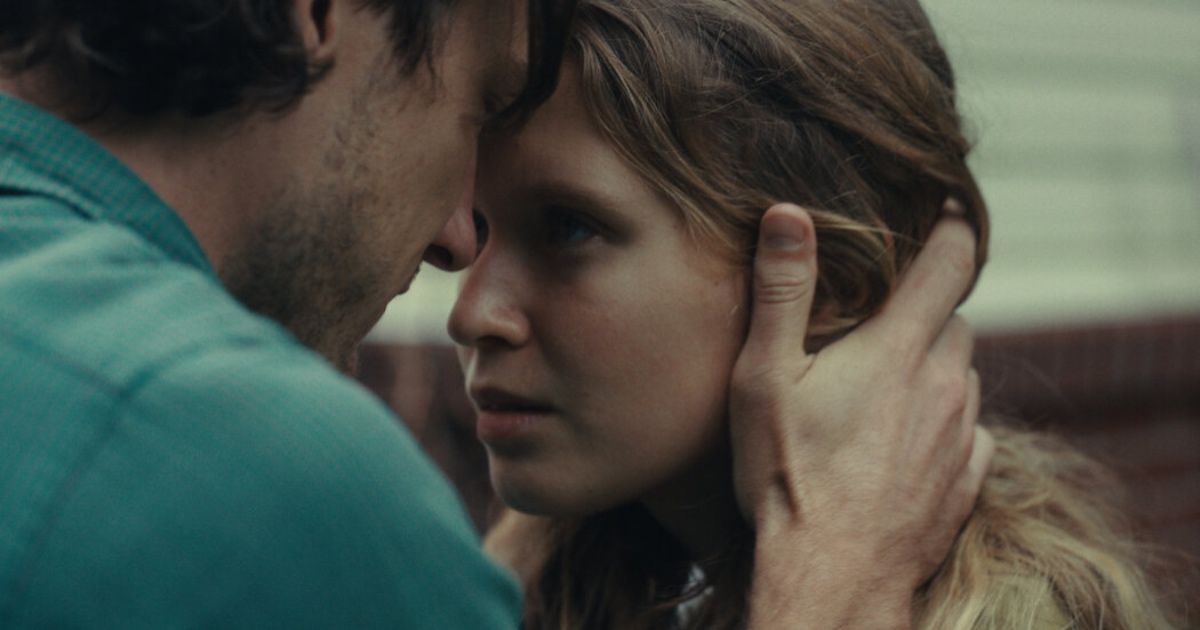 A note to Oscar voters: Please remember Eliza Scanlen's remarkable portrayal of a 17-year-old girl coming to her own in a fundamentalist Christian community in rural Kentucky in The Starling Girl. The film, which builds steadily before surprising you with its depth in its third act, gives Scanlen an ideal platform to showcase her exceptional talents. We've seen her before, of course. She's generated plenty of buzz playing a rebellious young girl opposite Amy Adams in Sharp Objects and later, as Beth March, in Greta Gerwig's wonderful turn as writer/director in Little Women. Here, Scanlen's sublime performance deserves attention and recognition.
MOVIEWEB VIDEO OF THE DAYSCROLL TO CONTINUE WITH CONTENT
Like several of Scanlen's previous outings, her new film, is helmed by a female powerhouse, this time Laurel Parmet, who writes and directs The Starling Girl with care and caution. The story revolves around Jem Starling (Scanlen), a vulnerable teenager trying to understand herself, her fascination with an older youth pastor (Lewis Pullman), and her own place among her Christian family and community. The film also stars Wrenn Schmidt, Jimmi Simpson, Claire Elizabeth Green, Austin Abrams, Chris Dinner, and Brianna Bronger. It's a coming-of-age tale to savor, one that stays with you long after you've experienced it.
A Jem That Sparkles
Bleecker Street
The Starling Girl marks Laurel Parmet's first outing as a writer and director, and the filmmaker does an exceptional job at finding a rich and nuanced story dwelling in life's gray area — that esoteric midline of our lives where far too many questions never seem to have one definitive answer. That's Jem's main predicament, in fact. She's been raised as a fundamentalist Christian, and her mother, Heidi (Schmidt), is strict. Her father Paul (Simpson) less so, but everywhere Jem turns, there is "order" and a code of conduct to follow.
All that begins to wobble upon the return of Owen (Pullman), a charming youth pastor—and the pastor's son, fact—who returns home to begin a new chapter with a wife he clearly hasn't established deep bonds with. It's not like that with Jem, however. Jem and Owen are both surprised by their growing fondness for each other, and Jem wonders if she's simply crushing on Owen, who is more than 10 years older than her, or if, in fact, there's something more there. But how could that be? There's an age difference. Owen is the pastor's son. This sort of thing wasn't taught in church.
Related: Exclusive: Eliza Scanlen and Lewis Pullman on Their Complex Relationship in The Starling Girl
But Jem leans into her curiosity and as such, this film comes alive in a way that may surprise audiences. Remarkably, Parmet doesn't preach here. The filmmaker drops the audience into Jem's world, where we witness a steady unfolding of mostly small yet significant events that could ultimately change the trajectory of Jem's life entirely. If you recall how a film like Moonlight crept up on you, Parmet's outing does the same and Scanlen commands every scene she occupies. "Cinema" hasn't been whittled away, after all.
The Actors Elevate the Story
The Starling Girl is a story pulled from events in Parmet's real-life, and it moves along with even beats, but the film's cast truly elevates this endeavor into a wondrous experience. Wrenn Schmidt, whose previous work in For All Mankind was profoundly affecting, delivers a powerhouse performance here as Heidi, Jem's mother. True, it's always a joy to see actors lose themselves in their roles, but there's something so haunting and so real about the way Schmidt tackles the role of Heidi that is exceptional. Here is a woman so deeply devoted to her beliefs that she's cautious and fearful of anything that might put them in jeopardy. She walks a fine line of knowing that but also standing even more firmly in her convictions just to maintain "order."
Related: Every A24 Coming-Of-Age Movie, Ranked
Meanwhile, Lewis Pullman enchants and seduces the screen in every frame he occupies. Owen is charming, deep, even sensual, in the ways he approaches things. He's cautious, too, but for different reasons than Heidi. And he's just as surprised as Jem about their mutual intrigue and the precarious moral road they could eventually walk down. Pullman adds a rare level of believability here, too, and in the hands of another filmmaker, his character might look more like a villain than the flawed human being he actual is.
Jimmi Simpon's take on Paul Starling, Jem's father, stands out. Parmet effectively captures a man caught up in the responsibilities he's created and the desire to offset them—even if just for a little bit. The rest of the cast have been perfectly cast, and several scenes with a potential love interest arranged for Jem find Scanlen wonderfully showing us the girl's ongoing dilemma about her place in the world, and the lengths her family would go to keep them in theirs. Happily, Parmet's tempered illustration of the fundamentalist Christian community here is void of judgment whatsoever. It's a beautiful achievement considering the polarized times in which we seem to be living.
Bottom line: Eliza Scanlen is a gem. It's not often that we come across an actor who so perfectly enchants us in a story that also allows us to ponder our beliefs and decisions. Best to relish her — and this film — as it plays out before you in the remarkably effective ways it does.
From Bleecker Street, The Starling Girl is now playing in theaters.
You can view the original article HERE.