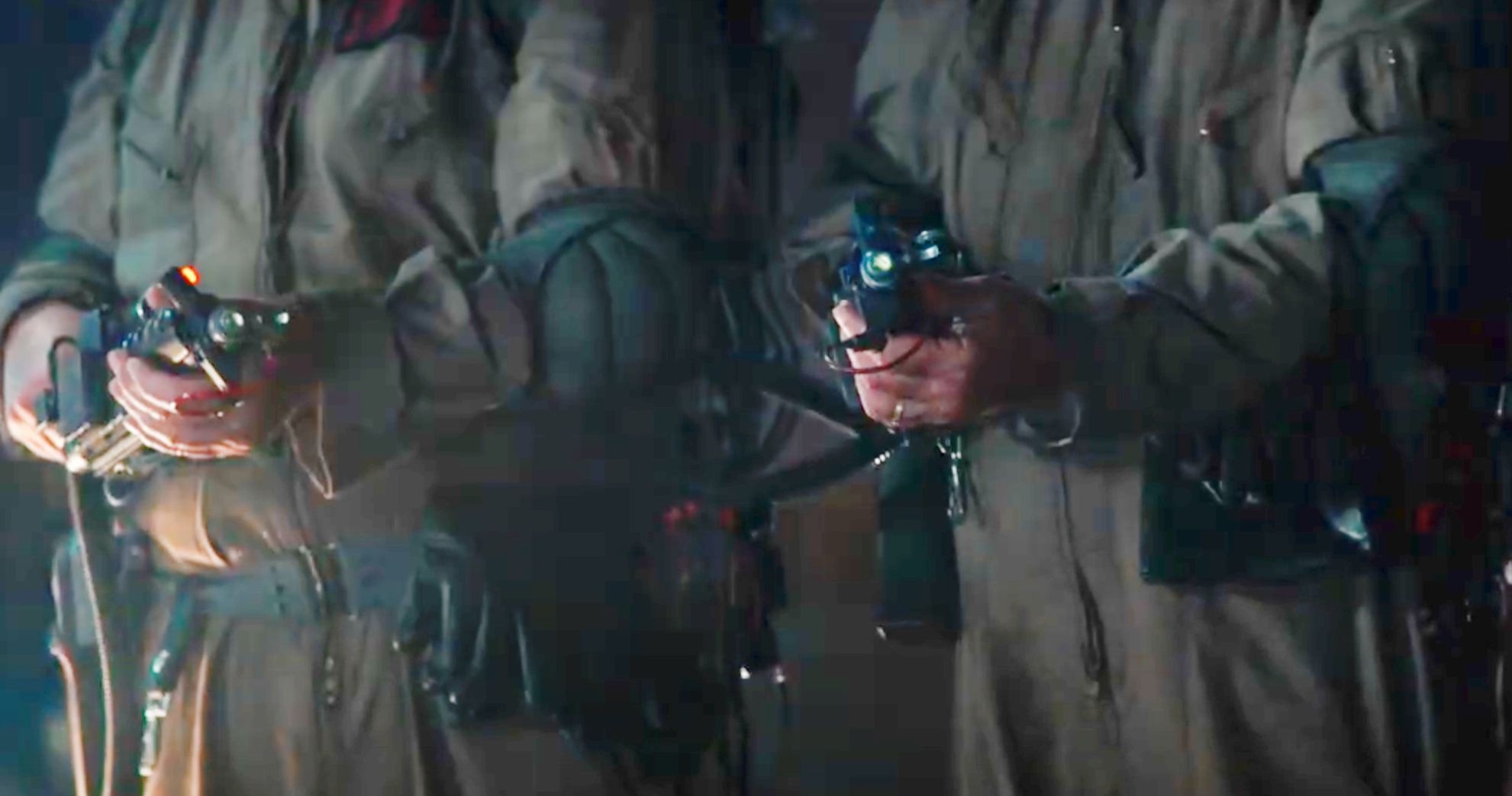 Ivan Reitman is in Ghostbusters: Afterlife and son Jason has revealed exactly when the secret cameo takes place.
The new sequel Ghostbusters: Afterlife is filled to the brim with Easter eggs and references to the originals from director Ivan Reitman, who, as it turns out, has also secretly been hidden in the movie. After helming the original Ghostbusters movies, Ivan served as a producer on Afterlife with son Jason Reitman taking the reins as director. And the younger Reitman was intent on getting his father into the movie in one way or another as a way of honoring the original director.
On Instagram, Jason shared an image from the Afterlife set, revealing exactly where this hidden cameo takes place. The image shows Ivan Reitman suited up in a Ghostbusters uniform and proton pack, as it's actually him standing in for Peter Venkman (Bill Murray) for a shot where it shows the OG Ghostbusters' hands. As Jason explains, "Directing dad. For an insert shot of Venkman firing up his proton pack, we brought in the hands of another Ghostbuster. My favorite Easter egg."
MOVIEWEB VIDEO OF THE DAY
This new movie is not short on the fan service whatsoever, and for the most part, fans seem to really be enjoying it. Ghostbusters: Afterlife has already been received by fans much better than Paul Feig's reboot that was released in 2016 with an all-new cast. Recently, original star Ernie Hudson speculated that the reboot would have performed much better if it tied more directly into the first two movies rather than rebooting the story from scratch. This new movie also primarily follows new characters, but fans were willing to accept this with the original Ghostbusters making an appearance. Hudson also hopes to see more of Winston in the inevitable sequel.
"Clearly it's a new family's movie so I don't know if any of the old Ghostbusters can be major players – but being involved as mentors in some way would be a lot of fun. [Winston] certainly seems set up to be a part of it. He understands the Ghostbusters better than anyone. He's almost like Sam Jackson's character [Nick Fury] in the Marvel Universe. Whatever comes out of it, I'd love to see Winston connected to it."
The new movie also brings back other original stars like Bill Murray as Peter Venkman, Dan Aykroyd as Ray Stantz, Sigourney Weaver as Dana Barrett, and Annie Potts as Janine Melnitz. Afterlife also pays tribute to the late Harold Ramis in a most wonderful way, though we won't mention how here for the benefit of those yet to see the movie. Let's just say that this is required viewing for every major longtime Ghostbusters fan who's been waiting for a real continuation of the classic story established in those original classics from Ivan Reitman.
Ghostbusters: Afterlife is now playing in movie theaters. This comes after many significant delays related to the pandemic, as Sony was insistent on keeping this release on the big screen. It's all turning out pretty well as the fans are really taking to Afterlife, and with the way Jason Reitman one leaves the door open for another sequel, chances are we will see Ghostbusters 4 happen soon enough.
Resident Evil: Welcome to Raccoon City Star Avan Jogia Comments on Possible Sequel
Leon Kennedy actor Avan Jogia admits he hasn't thought much about what's to come for his character with no guarantee of a sequel in place.
Read Next
About The Author
Jeremy Dick
(3376 Articles Published)

Jeremy Dick has been writing for MovieWeb and Horror Geek Life for years, is the self-proclaimed biggest fan of Bob Saget, and doesn't particularly like talking about himself in the third person.
You can view the original article HERE.