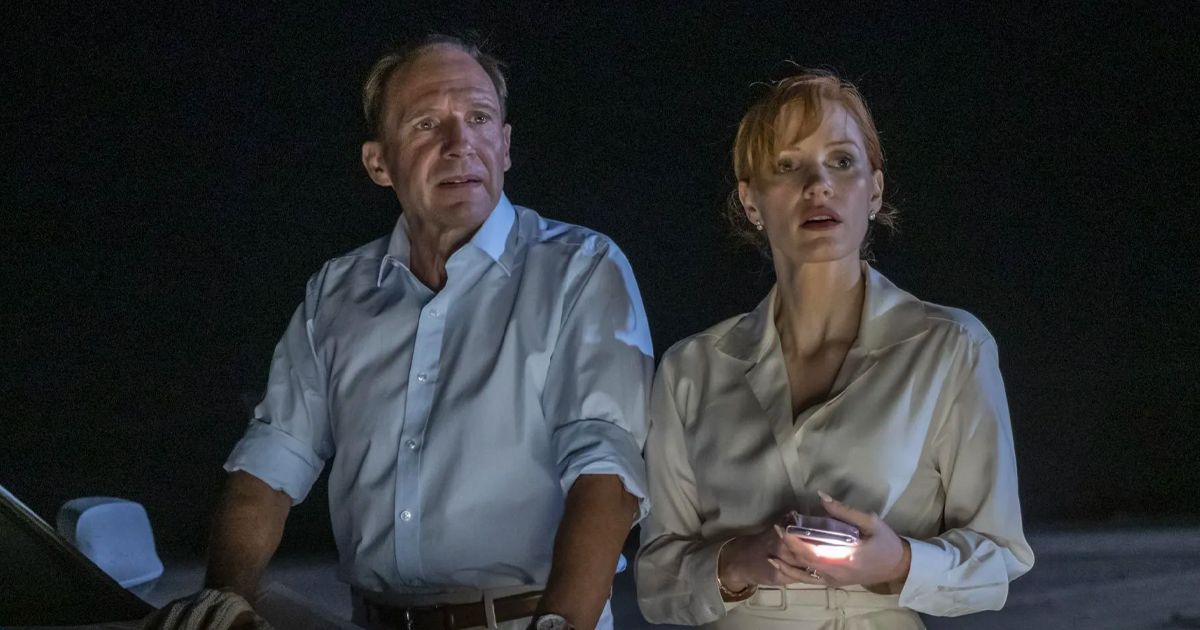 An elitist white couple runs over an Arab teen on their way to a lavish desert party in Morocco. The Forgiven skewers the debauchery and arrogance of wealthy interlopers while contrasting the impoverished lives of the desperate locals. It is a barbed morality play laden with dark humor and uncomfortable truths. Ralph Fiennes and Jessica Chastain lead a superb ensemble in a thoughtful film. They bring surprising likeability to distasteful characters with little redeeming qualities. The narrative passes cold judgments but spreads the nastiness evenly.
David (Fiennes) and Jo (Chastain) Henninger arrive in Tangiers for a remarkable weekend getaway. David's childhood friend, Richard (Matt Smith), and his lover Dally (Caleb Landry Jones), are throwing an elaborate costume party at their luxurious desert villa. David drinks constantly while mocking the tourists. A bored Jo snipes at his crude behavior. They rent a car for the long trek to the remote bash.
MOVIEWEB VIDEO OF THE DAY
David drives drunk through the dark and dusty night. He doesn't see Driss (Omar Ghazaoui) waiting for them at the turn. At the party, the guests cavort with glee. Their every whim catered by vigilant servants. The couple's arrival with a dead body causes a stir of whispers. Richard calls the authorities to validate David's version of the story. The boy's death was an unfortunate accident.
The plot thickens with the arrival of Abdellah Taheri (Ismael Kanater) in the morning. He wants the body of his son and to address the man who killed him. Abdellah demands that David honor tradition and accompany him to bury his only child. Richard warns it's the smart course of action instead of angering the nomads. Jo is shocked when David reluctantly agrees. They each have separate desert awakenings as the frivolity continues in David's absence.
Exploring Characters in The Forgiven
Adapted from the novel by Lawrence Osborne, The Forgiven begins by exploring the characters' worst attributes. A great scene has Dally complaining to Richard for inviting the Henningers. They cannot let a smashing soirée be ruined by such a lamentable event. The guests want to drink, dance, frolic, and do narcotics with an eye-watering assortment of young harlots. A dead body is such a buzzkill. The hosts are ecstatic when David has to leave. The fun commences unabated. Jo's guilt evaporates as a sleazy lawyer (Christopher Abbott) takes interest.
David's journey with Abdellah juxtaposes the carnal wonderland left behind. He gets a taste of the hardscrabble existence under a blistering sun. The nomads work from "dusk till dawn" digging for fossils. It's the only thing they have of any value. David doesn't know Abdellah's motives but slowly begins to empathize. The film then incorporates the perspectives of the servants at the party. They watch in disgust at the hedonistic display. Everything goes against their Islamic value system.
Director/writer John Michael McDonagh (The Guard, Calvary) doesn't paint everyone with the same crude brush. Matt Smith, fantastic in his supporting role as Richard, acknowledges that his workers despise him. He's a homosexual and an infidel. His head servant, Hamid (Mourad Zaoui), fundamentally disagrees with Richard's lifestyle but isn't defined by hatred for westerners. He simply has no other choice for employment opportunities.
Related: Exclusive: Johnny Flynn Pulls Double Duty in The Score
Ralph Fiennes and Jessica Chastain in The Forgiven
Vertical Entertainment
Ralph Fiennes and Jessica Chastain live up to their vaunted acting status. David and Jo undergo significant transformations. The killing forces introspection. The difference being one partner leaves their comfort zone. David's idea of suffering never included a real understanding of poverty. Conversely, Jo drops her inhibitions and embraces unbridled freedom. She steps out of David's shadow to find herself.
I laughed much more than expected given the serious subject matter. McDonagh touches many thorny topics with incisive wit. He gives his banner cast the chance to explore the dirty underbelly of their characters. They can grow, or not, in light of tragedy. The Forgiven's climax illustrates this choice. Audiences will have to decide whose self-discovery was more constructive.
The Forgiven is produced by House of Un-American Activities Productions, Brookstreet Pictures, LipSync, Film4, Head Gear, Metrol Technology, and Assemble Media. It will be released theatrically on July 1st from Roadside Attractions and Vertical Entertainment.
You can view the original article HERE.