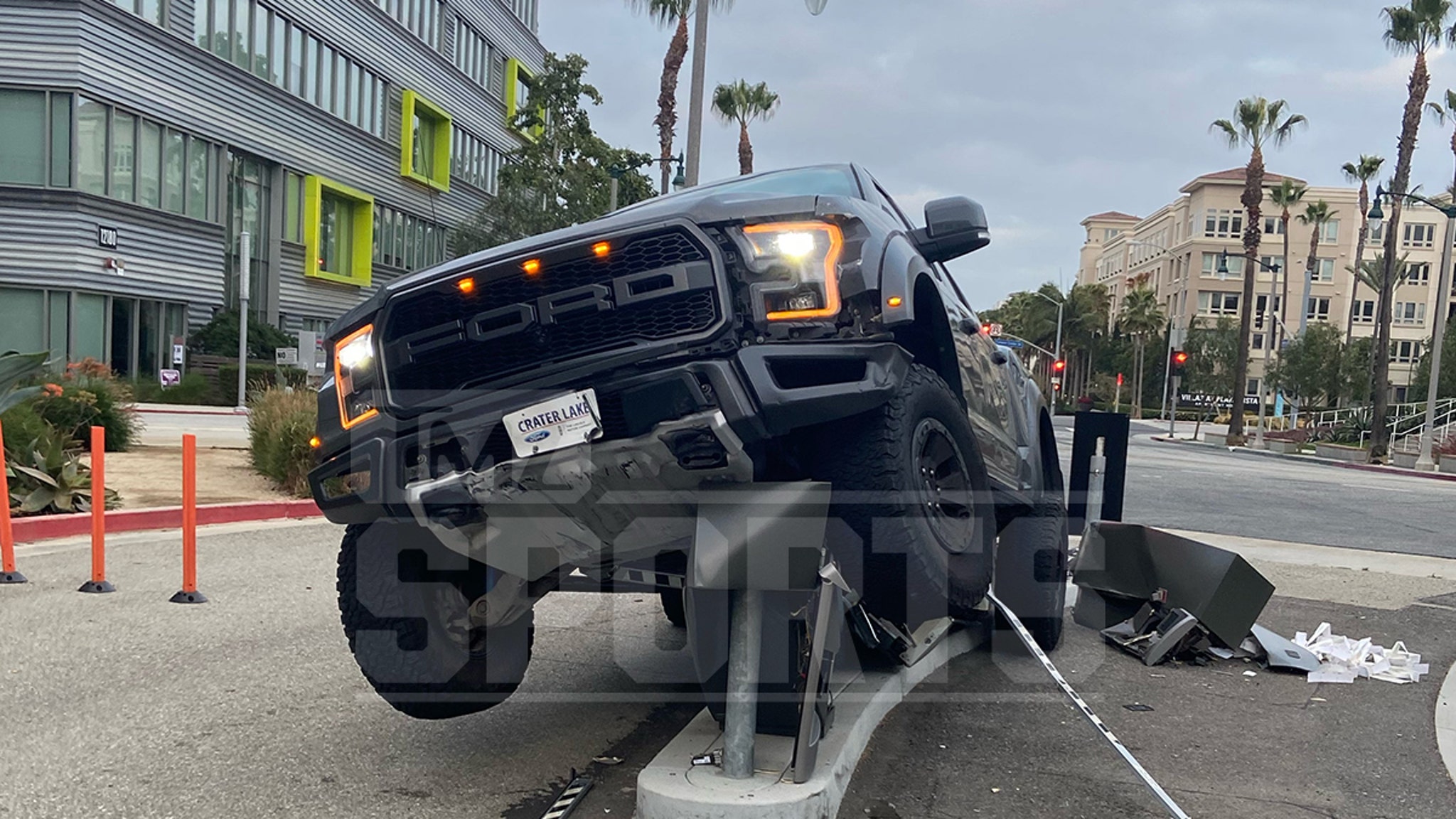 12:27 PM PT — TMZ Sports has obtained photos from the crash Ben McLemore was involved in Thursday — and the guy is seriously lucky to be walking away from this unscathed.
Check out these insane pics that show Ben's Ford truck almost toppling over as it sits on top of the gate arm of a Playa Vista property … while it hovers high in the air. The arm itself is absolutely crushed under the weight of the truck — you can see pieces of it scattered about.
BTW, it isn't just the arm that got whacked here — the ticket dispenser that spits out parking passes for people was also destroyed … and a bunch of those vouchers are also all over the ground.
As far as Ben's truck goes … it's a Raptor, which is top of the line when it comes to Ford's. It also appears brand spanking new, as the guy didn't even have plates on it yet. Not to make light of this situation, but … we suppose the slogan "Built Ford Tough" applies. ????
Lakers guard Ben McLemore was involved a single-car accident in the hours following his team's huge win over the Warriors … but, thankfully, he was uninjured — TMZ Sports has learned.
Law enforcement sources tell us sometime Thursday morning — shortly after the Lakers beat the Warriors in their play-in game Wednesday night — cops responded to a 911 call for an accident in Playa Vista, Calif.
We're told when officers arrived on the scene, they found McLemore and his crashed Ford truck … and conducted a field sobriety test.
Sources say the 28-year-old, though, passed all their tests and did NOT appear to be drunk.
We're told McLemore explained to officers he had accidentally hit the gas instead of the brakes and crashed into a gate arm.
McLemore — who had no injuries — was not arrested and not issued any sort of ticket, we're told.
The former Kansas star played in 21 games for the Lakers this season … averaging 8.0 points per contest.
He did not play in the team's win over Golden State due to a coach's decision.
Originally Published — 12:25 AM PT
You can view the original article HERE.