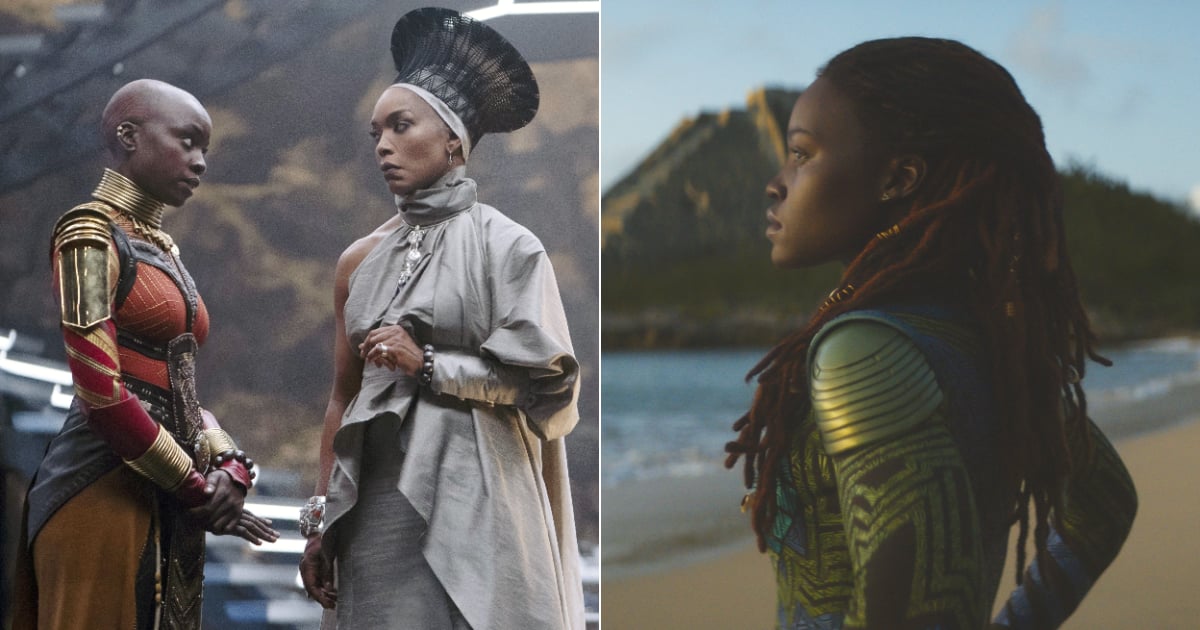 As POPSUGAR editors, we independently select and write about stuff we love and think you'll like too. If you buy a product we have recommended, we may receive affiliate commission, which in turn supports our work.
When crafting her vision for the costume design for "Black Panther: Wakanda Forever," the highly anticipated sequel to 2018's "Black Panther," Ruth E. Carter knew she was going to face formidable challenges.
"We lost our hero. We worked on this film over Zoom during a global pandemic, and we couldn't hug each other to console one another over our grief."
The Academy Award-winning costume designer — whose extensive credits include "School Daze" (1988), "What's Love Got to Do With It" (1993), "Sparkle" (2012), "The Butler" (2013), and "Selma" (2014) — was prepared to bring nine Marvel superheroes to life on screen and elevate the costumes for the returning characters. But she also had a new, unique task ahead of her: introducing the underwater world of Talokan and the Wakandan Navy. Off screen, the cast and crew were also reeling from the tragic death of Chadwick Boseman, who played the titular Black Panther before his death from colon cancer in 2020.
"This film was one of the most complex endeavors," Carter, 62, tells POPSUGAR. "We lost our hero. We worked on this film over Zoom during a global pandemic, and we couldn't hug each other to console one another over our grief."
Carter reveals that Boseman hadn't shared that he was ill, so his "Black Panther" colleagues weren't aware of the pain and suffering he was experiencing. "He continued to film and perform at a peak level, which in turn motivated us all to deliver our art in such meaningful and expansive ways on the second film," she says.
Image Source: Everett Collection
In creating the new world of the Talokan, the film pays tribute to Mayan culture thanks to the Mayavase database, a unique and extensive archive of Mayan knowledge, resources, history, and art. Carter and her team examined the Mayan codices, paintings, artifacts, hieroglyphics, janias figurines, and pottery of Mayan artisans who detailed the meaning and stories in their designs. They also worked with historians who are experts in Mayan archaeology and culture to better understand the language, folklore, and mysticism.
"The first film highlights Afrofuturism, where the costumes are a tribute to Africa and they are reimagined, without the limitations of colonization, by merging traditional and modern to create form and function that manifests as futuristic," Carter says. "This is the same approach we had for the second film when introducing the world of Talokan. We wanted to honor Mayan culture and highlight what is traditional, while having it transcend into a futuristic look for the Talokan that complements their underwater world and adapts to land."
Ruth Carter pictured after winning the Oscar for best costume design for "Black Panther."Image Source: Getty / Dia Dipasupil
As part of a collaboration with Adidas and Marvel Studios, Carter provided guidance to emerging women and BIPOC designers who created bespoke apparel and footwear for the characters of Shuri (Letitia Wright), Okoye (Danai Gurira), and Riri (Dominique Thorne).
"It was wonderful to work with young Black and brown designers," Carter says. "They were extremely excited and had little idea that the program they signed up for would lead them here to 'Wakanda Forever.' They were the Shuri and Riris of the design program: smart, creative, and dedicated."
In total, they produced seven unique costumes for Shuri, Okoye, and Riri. The emerging designers learned the art of collaboration and how creating looks empower an actor's portrayal of a character.
"They worked on Shuri's undercover suit, making it purple to represent her royalty, and created a cape effect by designing a swing coat on her back that billows in the air like a cape when she is on the move and riding a motorcycle," Carter says. Meanwhile, Okoye's undercover look stayed close to the attire of the Dora Milaje, because even when she's undercover, she still remains connected to that identity.
"The printed graphic on the front and athletic banding around her suit supports her muscles and feels like the harness similar to the actual Dora Milaje look," Carter explains. "As Riri is an American tech genius student, we were able to put together her look from the Adidas campaign."
Ahead, the prolific costume designer opens up about the meanings behind the ensembles in "Black Panther: Wakanda Forever."
You can view the original article HERE.