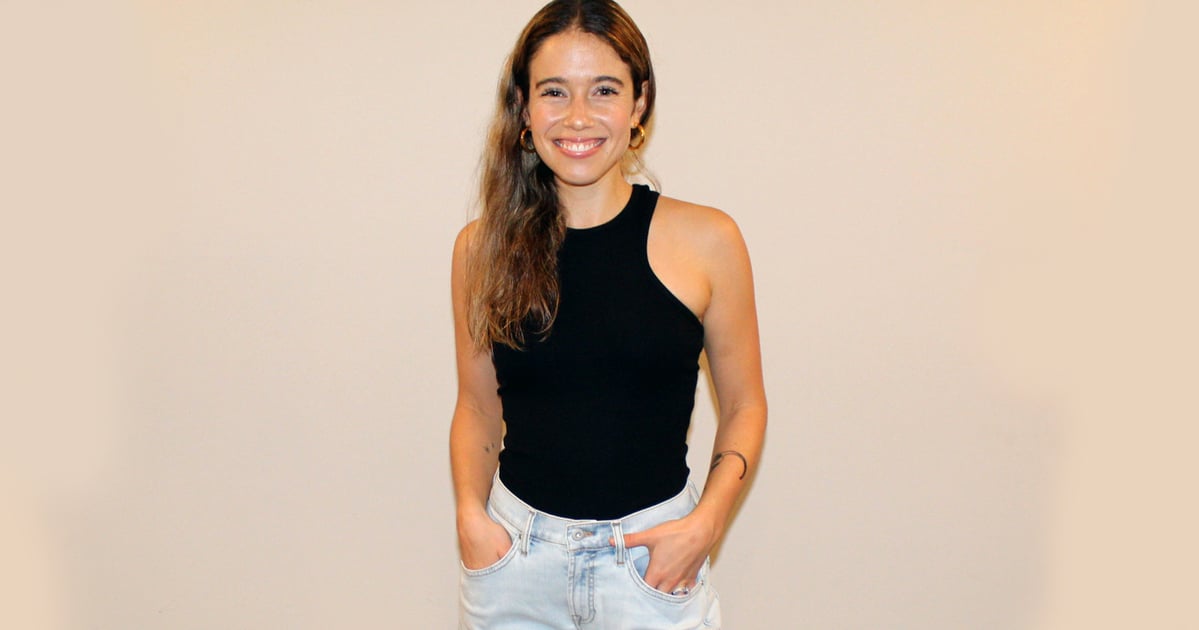 There I was, sitting in my desk chair taking the SmartFit Quiz for Emma Lovewell's new size-less denim collection with fashion tech company Sene Studio. But I might as well have been sitting on my Peloton bike, about to press "start" on one of Emma's toughest rides — that's how apprehensive I was. Why the doubt? Well, firstly, these jeans were supposed to magically fit my body to a T when they arrived on my doorstep, based upon my answers to a few questions that didn't ask me to divulge my usual size or utilize any measuring tape.
"I always thought getting custom clothing would be out of reach, unavailable, or too expensive."
As a short person with athletic legs, I almost always have to have my pants altered or tweak them myself because they're tight in some places and loose in others. (I know I'm not the only one who finds issues with the standard sizing system.) But I also don't typically love the way ripped jeans or anything in a light wash look on my figure. These two qualities make up Emma's entire range because she's a big fan of '90s trends (if she's one of your favorite Peloton instructors, you probably know this and frequently sign on for her weekly '90s themed class). I also hadn't worn a pair of boyfriend jeans since middle school, and yet, out of all six styles available, the baggy silhouette was the one that appealed to me most. Intrigued by the science behind Sene x Emma and how awesome Emma looks in the jeans, I went for it and processed my order.
Two weeks later, the most comfortable, perfectly fitting pair of jeans I have ever worn in my life were all mine. Seriously, these feel more luxurious than some sweatpants I own, and I swear on #TeamLovewell I'm not exaggerating. They come to a stop at my ankle, allowing for a shoe moment beneath the hemline, and they're roomy but not saggy; light and distressed but structured enough that I don't feel like they're pulling taut and emphasizing every single line of my body.
But how did Emma, lifestyle and wellness extraordinaire and empowering Peloton athlete, come to master the task of constructing such impeccable denim? The former fashion fit model knew Sene cofounders Ray Li and Mark Zheng were the people to help her get the job done because, as a team, they value quality fabrics, representation, and a production system that minimizes waste. By making one-of-a-kind pieces, the company doesn't cater to the masses, and Sene's Japanese mill recycles its dye water for environmental purposes — Emma even told me it's clean enough to drink.
You can view the original article HERE.