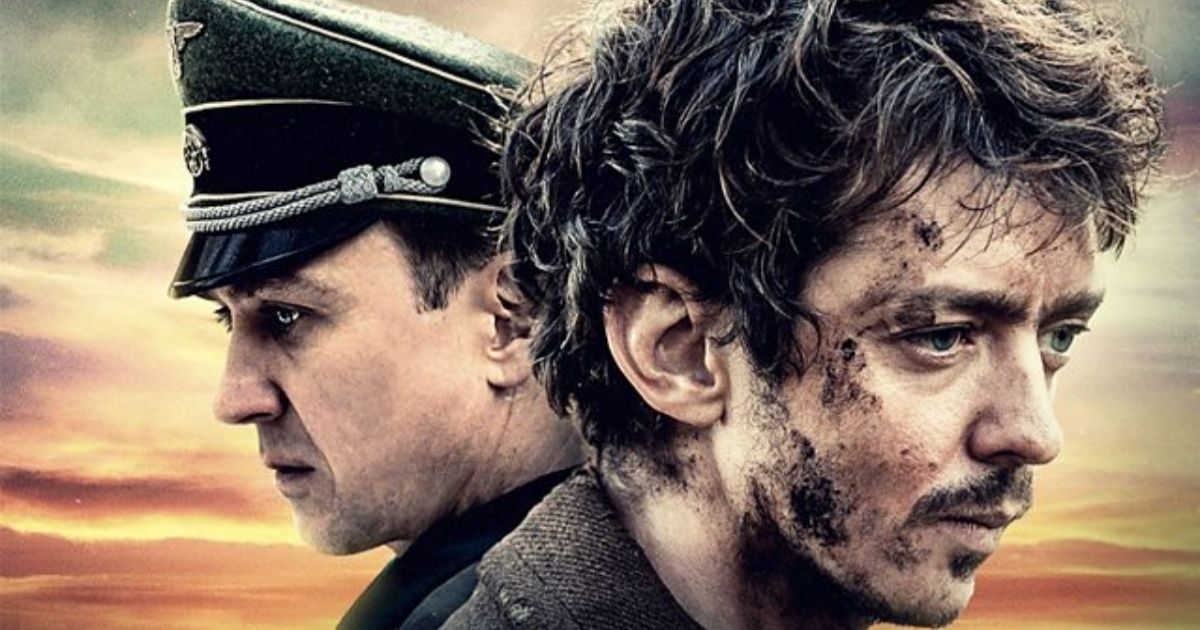 A Belgian Jew caught by the Nazis in occupied France becomes indispensable to a cruel officer at a forced labor camp. Persian Lessons tells a harrowing story of deception and survival under the most horrific circumstances. Humanity's worst instincts are vividly displayed in a bleak setting fueled by antisemitic hatred. A callous disregard for life is intriguingly contrasted with personal subplots. Murderous oppressors engage in petty normalcy while committing systemic genocide. You'll shudder in disgust as the enslaved protagonist is nearly beaten to death at a picnic lunch.
In 1942 France, Gilles (Nahuel Pérez Biscayart) is tossed into a crowded truck. A starving captor begs for something to eat. Gilles has a sandwich but is reluctant. He agrees to trade for a book on Persian mythology. The truck stops en route to the camp. The prisoners give up their luggage before being riddled by bullets. Gilles screams to avoid execution. He cries out that there has been a mistake — he's a Persian, not a Jew. Gilles presents the book as proof.
MOVIEWEB VIDEO OF THE DAYSCROLL TO CONTINUE WITH CONTENT
SS soldier Max Beyer (Jonas Nay) doubts the prisoner's veracity, but perhaps fate has intervened. The camp's deputy commander, Hauptsturmführer Klaus Koch (Lars Eidinger), promised ten cans of meat for a Persian. Gilles is brought before Koch as he berates his secretary for incompetence. Elsa's (Leonie Benesch) bluntly dismissed but catches Max's wandering eye.
Stoking Suspicion
Cohen Media Group
A trembling Gilles lies to Koch. He pretends to be the half-Persian Reza Joon. Koch demands he speak Farsi. Gilles hastily makes up a few sentences. Koch isn't entirely convinced but is willing to give Reza a chance. He'll work in the kitchen during the day and teach Koch at night, who dreams of opening a restaurant in Tehran after an easy German victory.
Persian Lessons takes the time to explore the characters motivations in depth. Gilles doesn't have a clue how to speak Farsi. He has to invent a fictitious language, instruct a brutal killer, and somehow not be discovered as a complete fraud. Koch's Iranian desires are laid bare when he grows closer to Reza. Their strange relationship stokes suspicion among the Germans. Max is convinced that Reza's Jewish. He can win Elsa's cold heart by unmasking Koch's new pet and executing him.
Related: The Most Powerful Documentaries About the Holocaust
Director Vadim Perelman (House of Sand and Fog, The Life Before Her Eyes) crafts tension with stark truths. Gilles can never make a mistake. He knows what awaits the prisoners at concentration camps in Poland and Germany. The Nazis are ruthless in their methodology. Gilles needs every drop of intellect, strength, and willpower to maintain the facade. He must ingratiate himself or die. Koch feeds off this subservience as an outlet to express carefully guarded feelings. Gilles is surprised when Koch waxes poetic about love and friendship. It's hard to imagine a monster having feelings.
Violence with Candid Severity
There's never a bright moment. Fog shrouds the muddy camp. The screen is awash in dismal brown and gray as prisoners toil. Their crowded barracks, the only respite, is a filthy den of despair. The Nazi social gatherings are similarly depicted. The drab festivities offer no joy or radiance. Perelman's cinematography and editing choices are thoughtful.
World War II and Holocaust films can feel mundane. Persian Lessons presents violence and barbarism with candid severity. Nothing is overblown or gratuitous. The film reminded me of Roman Polanski's The Pianist. It doesn't reach that grandeur but certainly captivates.
Persian Lessons has German and French dialogue with English subtitles. It is a production of Hype Film, LM Media, ONE TWO Films, and Belarusfilm. There will be a limited theatrical release on June 9th in New York and Los Angeles followed by national distribution from Cohen Media Group.
You can view the original article HERE.