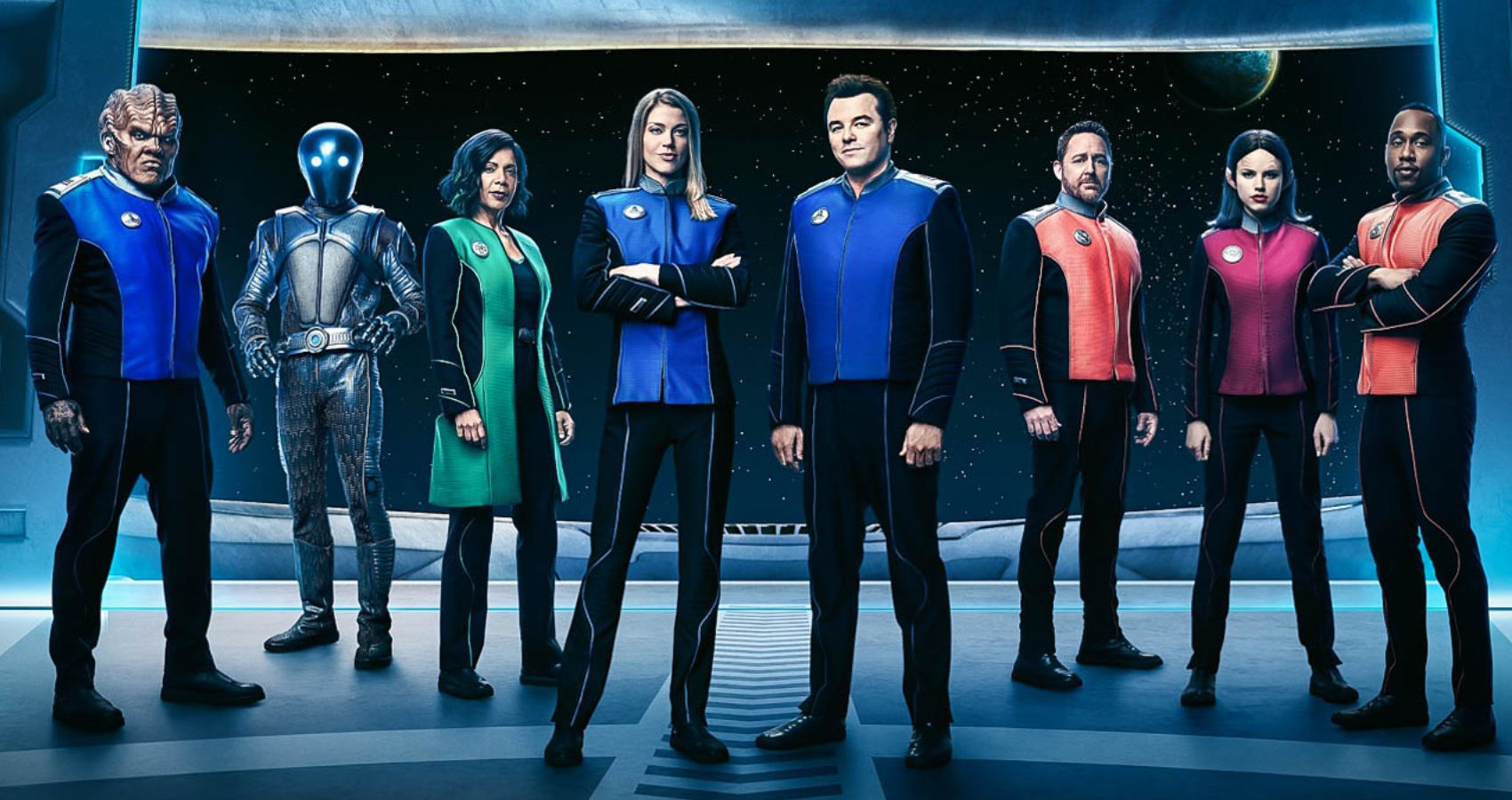 The Orville: New Horizons leaves its grateful audience with a sense of heartfelt optimism. "Future Unknown" serves as a fitting conclusion to an astonishing third season and possible series finale. Seth MacFarlane takes the show back to its humorous roots after nine superbly dramatic episodes. Three couples that started the epic space adventure find reconciliation and love. We also get the surprise return of Alara (Halston Sage) for the biggest wedding event in the galaxy.
Episode ten begins with Bortus (Peter Macon) and Klyden (Chad L. Coleman) renewing their bond in a truly Moclan way. Both strip down to their genital-hugging thongs, then Bortus chases Klyden through a forest. The pursuit, capture, and backwoods mating seals their commitment. Isaac (Mark Jackson) watches the ceremony with great interest. Back on the ship, he reviews all aspects of long-term human coupling.
MOVIEWEB VIDEO OF THE DAY
Claire (Penny Johnson Jerald) and Talla (Jessica Szohr) sit in the mess hall having a casual lunch. Claire, and everyone else, are absolutely stunned when Isaac asks her to marry him. Meanwhile, the Orville heads to Sargas Four to ascertain the continued development of the planet. Ed (MacFarlane) and Kelly (Adrianne Palicki) receive a message from Sargas Four on a Planetary Union frequency. Lysella (Giorgia Whigham), first introduced in season one, episode seven "Majority Rule", requests asylum. She kept a communicator that John (J Lee) left behind.
The Planetary Union
Hulu
The Planetary Union has strict rules against interfering with a less advanced civilization. Ed grants Lysella's request because she already knew of their existence. At a girls' night dinner, Claire asks Talla and Kelly if she should accept Isaac's proposal. She loves him deeply but is unsure about marrying him. Ed briefly stops by and gives the advice to ask her children if they approve.
Ty (Kai Wener) and Marcus (BJ Tanner) give their consent. They believe that Isaac loves their mother and has redeemed himself. Claire happily agrees to marry Isaac. News of the impending nuptials livens the crew. Not everyone agrees it's a good idea. John tells Isaac that Claire is the only woman he's ever been with. He should play the field more to be sure she's the right choice.
Kelly shows Lysella the Orville's incredible technology. She's stupefied by the simulator, matter synthesizer, and quantum core. All the hunger, poverty, and violence on her planet would be erased by such advancements. Kelly warns that a society must be unified in peace and purpose for the technology to benefit everyone. Otherwise, the wealthy and powerful would use it for their gain.
Isaac asks a mortified Kelly if they could go on a date and have intercourse. She quickly deduces where this awful advice came from. Kelly updates an irate Claire on this crazy development. She promptly chastises Isaac who realizes he made a foolish error. Isaac promises that Claire will be the only one for him. Claire storms down to engineering and shreds John in front his staff.
Disney Media Distribution
The crew makes plans for the bachelor and bachelorette parties. Gordon (Scott Grimes) is furious when Bortus steals his "best man" offer from Isaac. The ladies get together to plan a rager for Claire. Lysella feels she's betrayed her people by leaving. Why should she escape to paradise while everyone else suffers? She asks Kelly and Ed to return home. They allow her to leave. No one would believe her fantastical story without proof.
Isaac calls Kaylon Primary (Graham Hamilton) and invites the entire android collective to the wedding. The bachelorette party is a swinging bash. Kelly programs an Isaac stripper simulation for Claire. Bortus, dressed and singing Elvis songs in a Las Vegas recreation, delivers a snoozer bachelor party. Only Klyden claps happily at his husband's performance.
The Orville heads back to Sargas Four to return Lysella. A security alarm blares when she tries to enter the shuttle. Talla searches her and discovers a pad loaded with blueprints. Kelly takes Lysella back to the simulator. She shows what happened hundreds of years ago when the Planetary Union gave a developing planet technology. They destroyed themselves within five years.
Related: Easter Sunday Review: Jo Koy's Comedy Routine Flounders
The computer alerts of a huge incoming Kaylon armada. Gordon immediately thinks they've broken the peace treaty. Isaac informs they are his wedding guests. Ed agrees to broadcast the wedding to the hundreds of Kaylon ships.
The big moment finally arrives in the simulator. Isaac, in his human guise, waits at the altar in a black tuxedo. Everyone wears their military dress uniforms. The Kaylon contingent sit robotically at their seats. Ty bears the rings while Marcus walks his ravishingly beautiful mother down the aisle. The crew watches in elation.
Claire and Isaac exchange heartfelt wedding vows. Ed marries them with a big smile. The simulator erupts in joy as Claire and Isaac kiss. The festivities start with a surprise guest. Alara returns to see her friends tie the knot. Lysella has also chosen to stay on the ship.
Bortus' offensive best man speech is cut short by Isaac. He asks Gordon to take over, which he does with great heart and humor. Ed surveys the glorious scene. He remarks to Kelly that last year they were at war with the Kaylons. Now they have a strong ally attending the wedding of a Kaylon and human.
Isaac requests a song from Gordon. He grabs a guitar as the crew surrounds him. Isaac holds Claire and her children. Bortus and Klyden also embrace. Kelly slips her hand into Ed's. He looks at her beaming. Gordon's dulcet voice reverberates as the scene cuts to the ship in space. The Orville flies with its happy crew towards a bright star.
Action-Packed Finale
Disney Media Distribution
The penultimate episode, "Domino", had Ensign Charly Burke (Anne Winters) sacrificing herself and saving the Kaylons from a genocidal weapon. Her arc of bitterly hating them, forgiving Isaac's betrayal, and dying for an enemy was the action-packed finale of the season's darker and serious themes. Kaylons learned the value of organic friendships. The Krill and Moclans unite to become formidable enemies. Teleya (Michaela McManus), the Krill Chancellor and mother to Ed's secret child, is arrested for war crimes.
MacFarlane boldly addressed controversial issues that fueled the third season. Suicide, grief, gender affirmation, political upheaval, war crimes, and death are left in the shadows of love. MacFarlane leaves his characters on a joyous note. Each crew member experienced substantial growth. Their heartbreak and pain touched so many aspects of the human condition. Seeing Isaac and Claire together with the children almost brought me to tears. I applaud the happy ending when beloved characters deserve it.
The Orville: New Horizons is the best science fiction series since The Expanse. Everything about season three was fantastic. Complex storylines, great acting, longer episodes, banner visual effects, what more could you ask for after a three-year hiatus? MacFarlane, his amazing ensemble cast, and production team have been nothing short of extraordinary. A fourth season has not been announced. I sincerely hope that the Disney+ debut will reach a much larger audience. Anyone who appreciates quality entertainment should be clamoring for its renewal.
The Orville: New Horizons is produced by Fuzzy Door Productions. All episodes are available on Hulu with a Disney+ premiere on August 10th.
You can view the original article HERE.