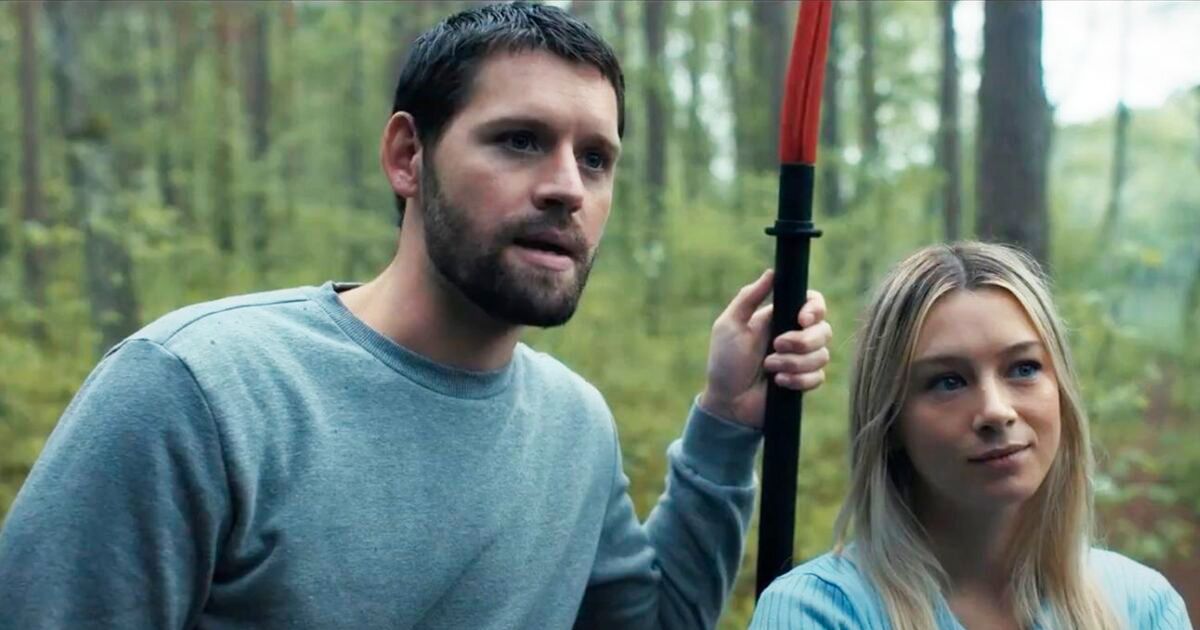 A journalist trying to start over in a new country makes a deadly mistake with an unknown psychopath. Director/co-writer Stephan Rick remakes his German feature debut for an English audience. The Good Neighbor is a suspense thriller aiming for a Hitchcockian delivery. A bad situation gets worse as the disparate leads react differently to their conspiracy. The tension established early in the first act wanes as the plot takes a predictable path. The characters inexplicably stick to their guns when common sense evaporates in the face of self-preservation. A few unexpected twists would have helped the sagging narrative.
David (Luke Kleintank) arrives in Riga, Latvia for a job as a news writer. He's been recently dumped and embraces the change of scenery. David's hired by an old friend, Grant (Bruce Davison), who lets him stay at his rural house. David has trouble getting Grant's old BMW started. He asks the immediate neighbor, Robert (Jonathan Rhys Meyers) for help. They get the car started. Robert is a visiting nurse who likes to fish. He's happy to have a new friend.
MOVIEWEB VIDEO OF THE DAY
David invites Robert for a drink after a dull day at work. They get drunk at a trendy nightclub. David meets a beautiful girl (Ieva Florence) and gets her number. The men drive home along a dark country road. Their casual conversation is interrupted by a heavy thud. David has hit a bicyclist. He freaks out when it's the girl from the bar. Robert can't revive her.
David wants to call the police but Robert refuses. They drove drunk and killed a woman. The best thing to do is leave. David's guilt increases when he's assigned the story by Grant. The victim's heartbroken sister (Eloise Smyth) wants answers. The police are moving too slowly. Robert destroys all evidence of their crime. He becomes infuriated when David befriends the victim's sister.
Related: Good Luck to You, Leo Grande Review: A Refreshing Change of Intimate Perspective
Relying on Chance Circumstances
The Good Neighbor relies heavily on chance circumstances. What are the odds of running over the same random girl, and then getting her murder to cover? It's also unbelievable that the sister singles out David as the reporter to help. Getting involved with her makes no sense whatsoever. The script wraps David's guilt with a willing suspension of disbelief. Robert is absolutely right to be upset at David's foolish actions. Where he takes his anger is the crux of the film.
Jonathan Rhys Meyers has formidable screen presence. It's obvious that Robert has a screw loose. He's intense and clinging from the first meeting with David. Alarm bells should have been wringing from Robert's odd behavior. I can buy that David has no one else to trust. They're in the crime together, but there has to be a moment of clarity. David is led like a trained puppy. A news reporter should have instincts to detect lies and danger.
I had serious issues with two story elements that are glossed over until a contrived reveal. The jig is up at this point. David again proves to be the dullest knife in the drawer. The Good Neighbor lost me completely in the third act.
The Good Neighbor is a production of Altit Media Group, Forma Pro Films, and RNG Entertainment. It will have a VOD and theatrical release on June 17th from Screen Media Films.
You can view the original article HERE.