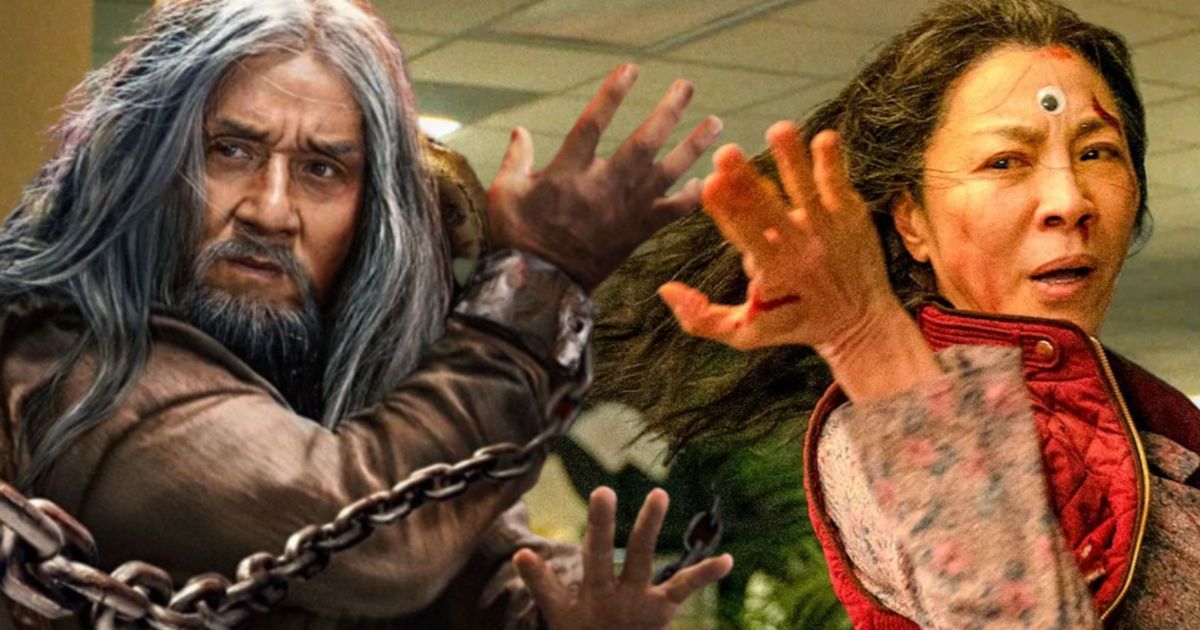 Yeoh was originally cast in a supporting role but was recast as the protagonist once Jackie Chan turned down the film.
Universal Pictures/A24
The hit film Everything Everywhere All at Once would have been an entirely different movie is Jackie Chan had been cast as the protagonist rather than Michelle Yeoh, but that's almost what happened. When the film was first written by the Daniels, Daniel Kwan and Daniel Scheinert, the idea was for Chan to play the lead role with Yeoh in a supporting role as his character's wife. After Chan turned down the film, however, the Daniels had the idea to shift Yeoh into the protagonist spot with Ke Huy Quan as her husband.
In a new interview with CNN, Yeoh reflected on how Chan was originally cast for her part. She presumes that the screenplay was written this way as, typically, it would be a male actor as the protagonist in an action-filled film like this. As Yeoh explains:
MOVIEWEB VIDEO OF THE DAY
"It was written for a man when the Daniels set out to do this. I think whenever filmmakers tell a story, they also have to be mindful. It is show business. 'I also have to write something that somebody will make it into a film.' So, they wrote it that way, that they will make it into a film.' So, they wrote it like that way, with Jackie, and me as the wife, so it was completely, the role was reversed."
After the film was released to great acclaim, Yeoh says Chan, a longtime friend, jokingly razzed her with a text. He sent her a message of congratulations along with a reminder that he was the one who was first considered to star in the movie. For her part, Yeoh could only give her thanks, as this gave her an incredible opportunity.
"I remember Jackie texting me and saying, 'Congratulations! You know, did you realize that your boys came to see me first?' And I'm like, 'Thank you, bro, you did me a huge favor!'"
Related: Michelle Yeoh Responds to Best Actress Oscar Nomination for Everything Everywhere All at Once
The Daniels Realized There Was Greater Potential in Making Michelle Yeoh the Protagonist
A24
Yeoh also commented on why things didn't work out with Chan, suggesting it was mostly due to scheduling issues. The good news, as we know now, is that the Daniels were quick to realize they had an easy solution, once they figured out that Yeoh was more than capable of carrying the film in this way herself. As Yeoh suggests, that may come from how the Daniels are inspired by the strong women they know in real life.
"I think it was mutual, because Jackie is very, very busy and he's got so many things going on. And I think the Daniels also stepped back and said, 'We're doing something that's already been done before. We should do something differently.' They both have very strong women in their lives, whether it's their mothers, or their partners. So, they are very inspired, and they're not afraid of strong women. I think that is the most beautiful thing about these boys, is that they celebrate strong women."
We'll find out if Yeoh wins the Oscar for her role in Everything Everywhere All at Once when the awards ceremony happens on Sunday, March 12, 2023.
You can view the original article HERE.