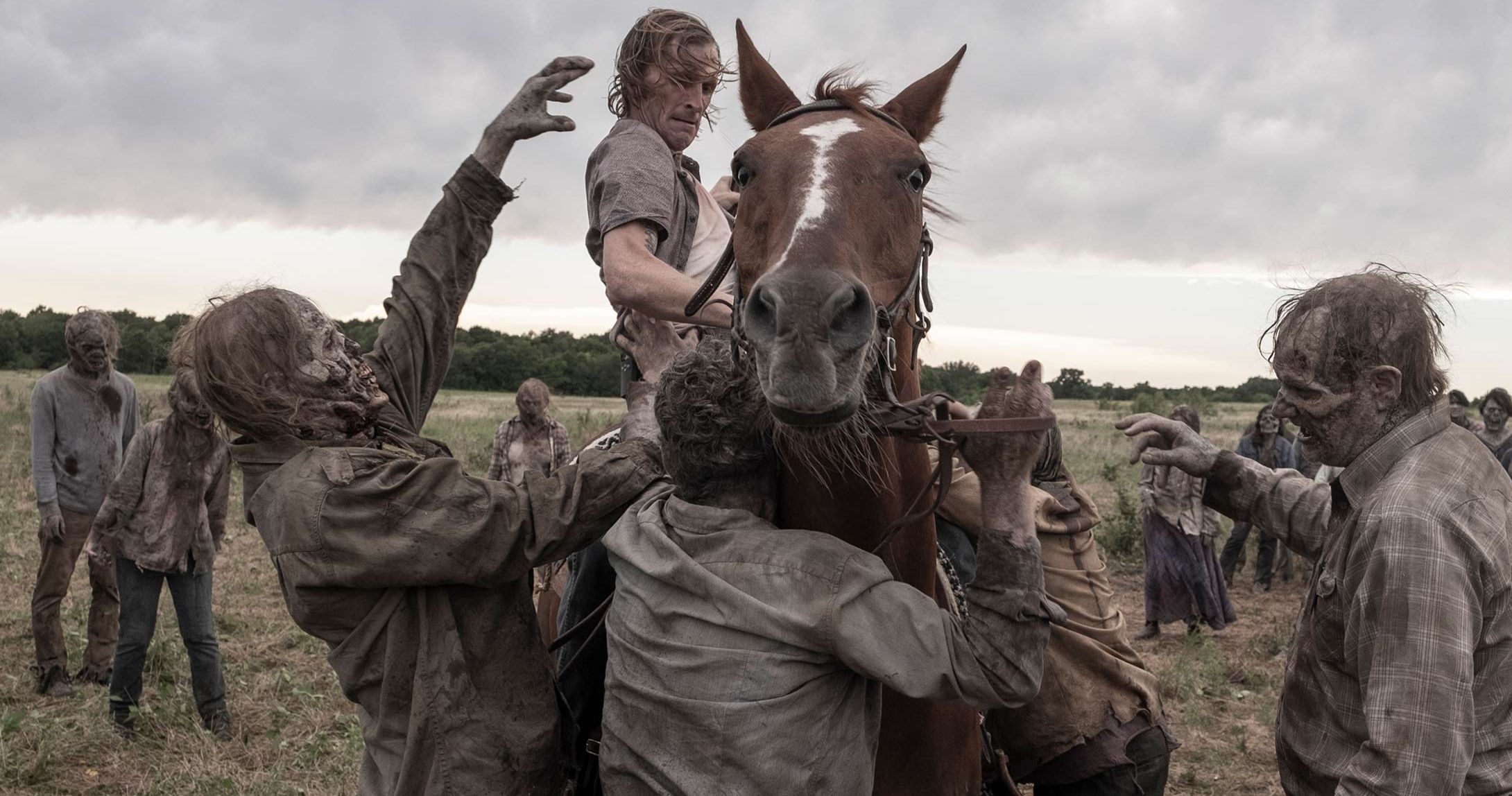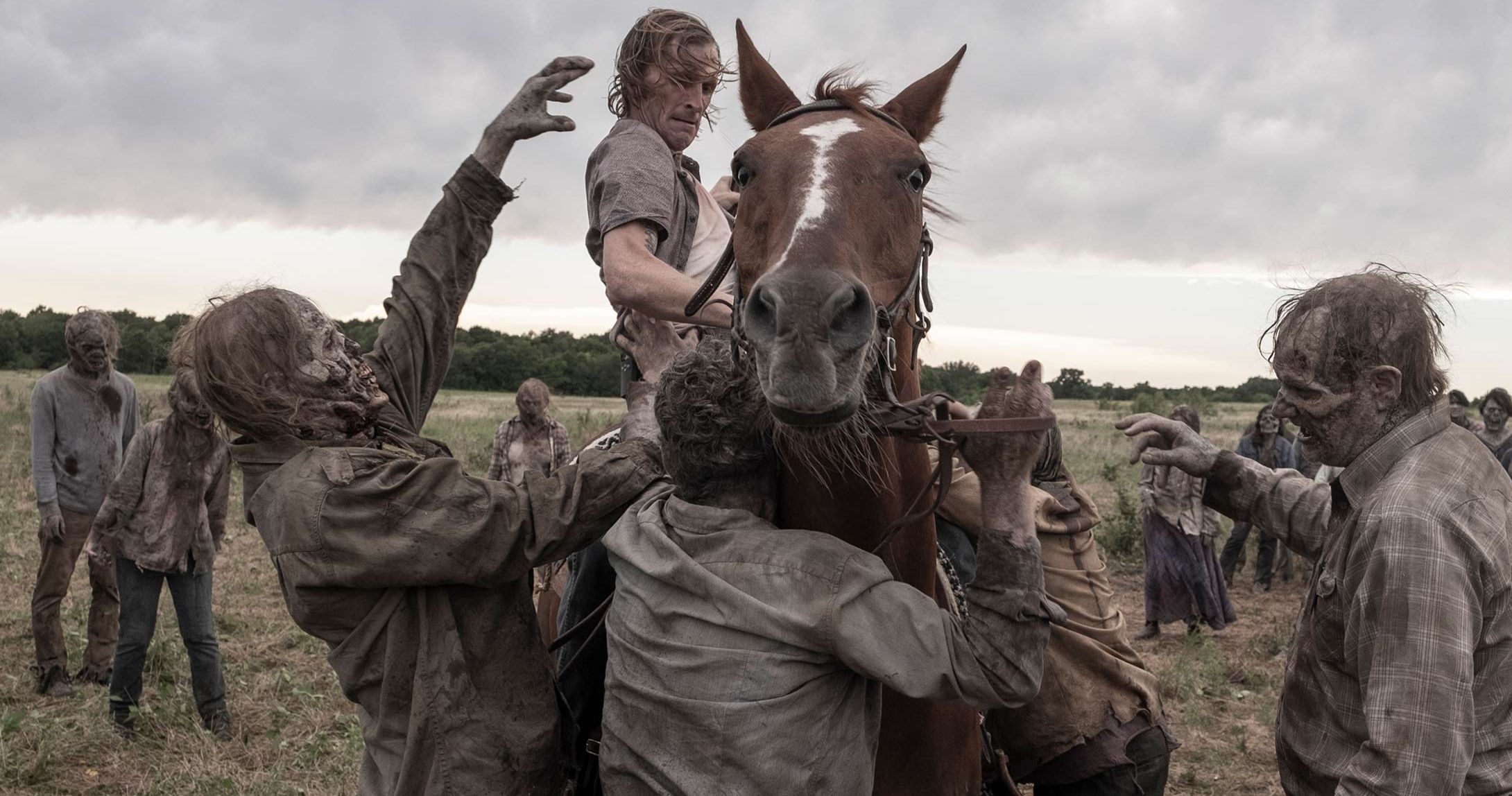 Fear the Walking Dead ends a disappointing season five with a truly terrible finale. "End of the Line" made no sense whatsoever. It encapsulates all of the bad decisions showrunners Ian Goldberg and Andrew Chambliss have made with their "help everyone even if it kills us" storyline. A last minute, out of nowhere reveal, and a supposed cliffhanger for Morgan (Lennie James) leaves nothing to be desired. The show has already been renewed for season six. It shouldn't have been.
"End of the Line" begins with Dwight (Austin Amelio) running towards the MRAV. He hears Sherry's voice calling on the radio, but cannot respond. He hides under the MRAV as horses approach. They are riderless. At Humbug's Gulch, Morgan talks to Ginny (Colby Minifie) on the radio. She won't help him clear the town. Ginny infers she knows what happened there. Morgan wants her to save everyone, but she won't keep them together. Morgan, with the group watching him, accepts her terms.
MOVIEWEB VIDEO OF THE DAY
Morgan comforts Grace (Karen David). She gives him her remaining candies. She brings up her lost love at the plant. Morgan tells her they will see each other again. Grace disagrees, she knows Ginny won't take her. Morgan "won't let that happen."
June (Jenna Elfman) worries she'll become the person she was before John (Garret Dillahunt). Suddenly Dwight returns with the horses. He knows there's water nearby. They can rescue Humbug's Gulch. Alicia (Alycia Debnam-Carey) takes back her weapon from Strand (Colman Domingo). She thinks they "can clear this place." Dwight agrees, but Strand says they need food and supplies. Salazar (Ruben Blades) adds that Ginny will not let them stay without a fight.
As the walkers strain the fence, John agrees. They don't have the weapons or people to face her. Morgan sees a billboard for a cattle drive, "Maybe we can get rid of both at the same time." He orders Alicia to take the group somewhere safe. He, Dwight, and the remaining primary cast lead the herd away using the horses. Morgan's plan is to use the walkers to hold back Ginny.
Al (Maggie Grace) notices a Pioneer key on a dead walker. Alicia and Wes (Colby Hollman) spot a church in the center of town. Grace rides with Morgan on his horse. John promises to marry June when they get back. Salazar and Strand watch the MRAV while the others hold the herd. June thanks Dwight. He tells her how he heard Sherry on the radio. He may have imagined her voice, but she guided him.
Rabbi Jacob (Peter Jacobson), Sarah (Mo Collins), and Charlie (Alexa Nisenson) inspect the church. Al shows them the key from the walker. The dead riders were with Ginny. At the MRAV, Salazar tells Strand he took the starter from the MRAV. Strand wants to give Ginny a chance. Her settlements "may not be as bad as we imagine."
They have corralled the herd in a field. Strand and Salazar signal that Ginny and her men have arrived. Ginny rejoices at finding the MRAV. But Luciana (Danay Garcia) is with them in the fuel tanker. Salazar radios to call off the herd attack. They struggle to turn the horses around. Strand grabs the starter and orders Salazar back to the Gulch, "Tell everyone to arm up." He rides toward Ginny's jeep.
Dwight is thrown off his horse by walkers. They devour the hapless beast. A hobbled Dwight runs to the river. June and the others try to distract the walkers. Dwight yells at them to leave him and get back to the vehicles. He won't let them suffer under Ginny. Morgan jumps off his horse and starts killing walkers. Morgan won't leave him behind. They make a stand at the river's edge.
John tells Morgan and Dwight to hide behind a brush. He, June, and Grace lead the walkers into the river. The herd is swept away. Dwight comments "they can't fight her without the walkers." Morgan acknowledges that Ginny has won.
At the Gulch, Al lines up the bodies of the Pioneers. The people died because they fought back against Virginia. That's where they horses came from. Alicia desperately wants to hold on, but they're lost without the herd. Morgan wants them to keep everyone live, "She can't make us forget what we did or who we are." Sarah wonders "if that's the ballgame." Morgan says they still have time.
Wes and Alicia paint the entrance to the church. Charlie plays a banjo while June walks down the aisle. Everyone has gathered for the wedding. Rabbi Jacob asks for the rings. Dwight gives them his and Sherry's wedding rings. John and June profess their love for each other. Dwight's ring is too small for John. Charlie gives June a thread and she hangs the ring around John's neck. Rabbi Jacob pronounces them married, "Mazel Tov!" Salazar and Grace sing while Al records. A divine light shines through the roof. Rabbi Jacob says, "Ner Tamid."
Ginny's convoy arrives with the MRAV leading. Strand gave her the starter and told her their plan. Ginny wonders if Morgan will be trouble. Morgan says no, but she will have to take everyone, including Grace, the sick, and injured, "It's all of us or none of us." He infers there will be a fight otherwise. Ginny agrees to his terms, " Adios yesterday, hello tomorrow."
That night, the group is separated and put on different trucks. Al tells Ginny her world is lies. Ginny scoffs, as Al is led away, she wants to know everything about "the helicopter." Sarah and Wendell (Daryl Mitchell) are put in different cars. Strand takes Wes and Alicia with him. He admits to helping Ginny with the MRAV, but "we can do more damage on the inside." Daniel tells Charlie that he will find her. They take Skidmark away from him.
Morgan watches as John and June say goodbye. John promises a way back to her. He gives her the Scrabble letters. June cries as she's put in a car. Grace tells Morgan this is not the end. He admits he feels something for her. Ginny introduces her to their doctor. As she's led away, Grace tearfully says she felt something too.
Morgan and Ginny are left at the church. She pulls her gun. Morgan hits her in the face with his staff, but is shot in the shoulder. She picks up another gun and walks towards him. Morgan crawls to the church steps. As she points the gun to his head and shoots, it fizzles out. It's a prop. Her doctor calls on the radio. Grace isn't sick, she's four months pregnant. Ginny gets in her jeep and drives away. Morgan talks on his radio one last time, "We fought for the future. We made the hard call for her…for all of us. All of you, if you can hear me, just live." Walkers surround him as he bleeds on the church steps.
So June, who's a nurse and a woman, had been taking care of Grace for weeks, and couldn't figure out she was pregnant? Something Ginny's doctor deduced within literal minutes? Does anyone believe that Morgan is really going to die? End of the Line was garbage from start to finish. The entire subplot with the herd was pure filler. Now the characters are all separated. Surely season six will have them reuniting and fighting Ginny from the inside, just like Strand plainly stated. Horrible is an understatement. End of the Line is the worst season finale we've seen yet in the The Walking Dead TV universe.
Season five saw Fear the Walking Dead mope and sputter with Morgan's ridiculous philosophy. From the plane crash, to the oil field, to the introduction of Ginny, it's been a downward plunge in writing quality. None of the new characters are memorable. Ian Goldberg and Andrew Chambliss have online petitions demanding they be fired as showrunners. That's not going to happen, but AMC must understand the outcry. Fear the Walking Dead has a fan base in revolt. The upcoming conflict with the Pioneers must be substantial, logical, and have consequences.
Raised by Wolves Season 2 Trailer Teases HBO Max Sci-Fi Show's Eerie Return
Something wicked this way comes in the new trailer for Raised by Wolves Season 2.
Read Next
About The Author
Julian Roman
(1440 Articles Published)

Film critic, raconteur, praying for dolphins to grow thumbs and do better.
You can view the original article HERE.