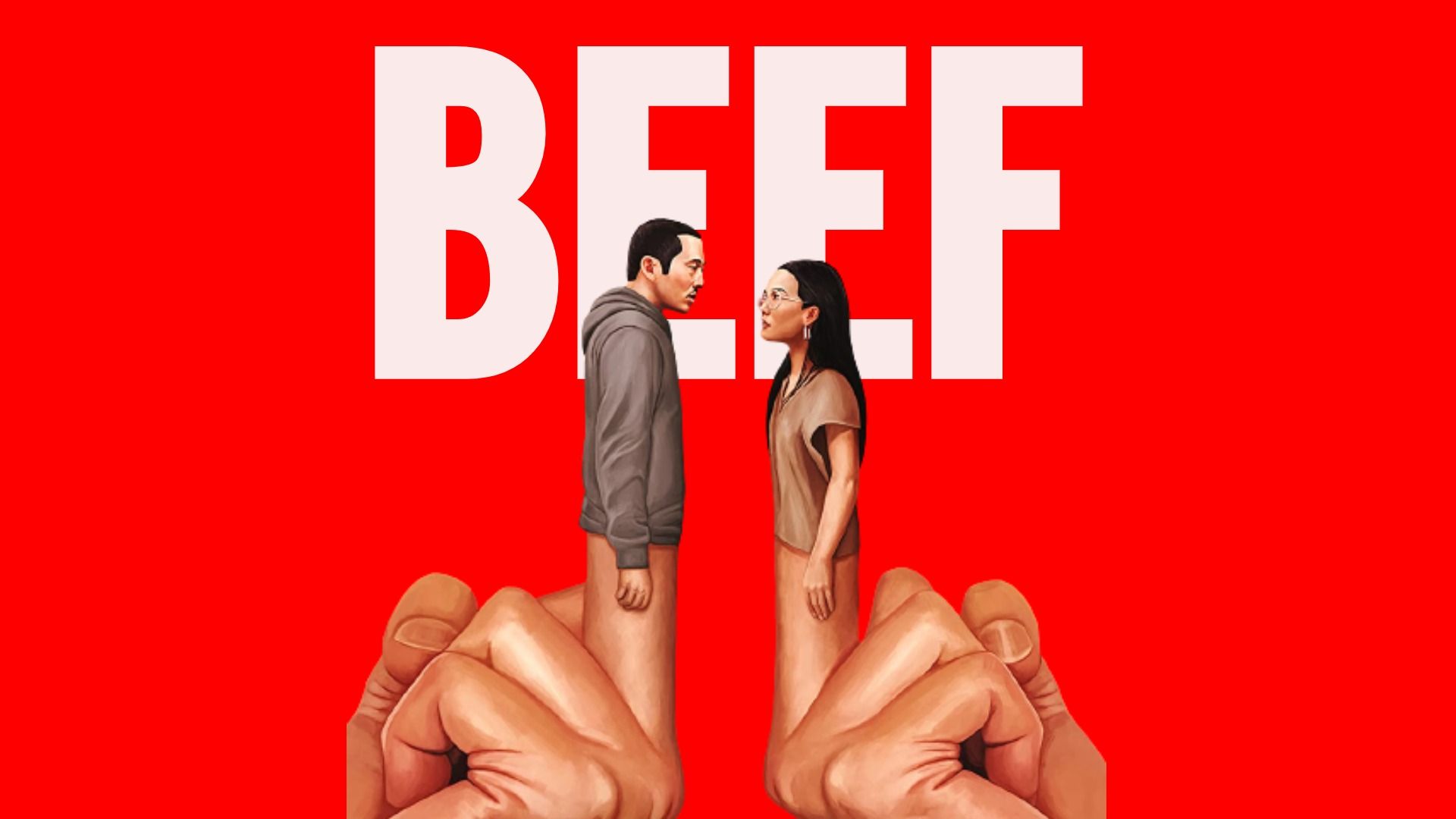 Scapegoats make the world go 'round. When people are unhappy (whether it's for personal reasons or they think the world is falling apart), it's much easier to blame someone or something than to address the actual issue. Blame Biden, Trump, Republicans, Democrats, the rich, the poor, the white man, minorities, your parents, your kids. "Should we blame the government, or blame society? Or should we blame the images on TV? No, Blame Canada!" as the South Park song goes.
Hate's easier than love, so when Danny is at the end of his rope in the new Netflix series, BEEF, he focuses all his unhappiness on Amy, a woman who honks at him before flicking him off. Unfortunately, Amy is just as unhappy as Danny, and when the depressed man retaliates, a feud of epic proportions begins which could destroy them and everyone around them. From this simple road rage premise emerges a true masterpiece of television, one that speaks to the current moment and the human condition better than hardly anything else around right now.
MOVIEWEB VIDEO OF THE DAYSCROLL TO CONTINUE WITH CONTENT
Steven Yeun and Ali Wong Headline a Masterpiece
Netflix
A24
If that sounds hyperbolic, it only matches the intentions set forth by creator Lee Sung Jin for BEEF. It's a show that begins small (a petty road rage incident) before exploding outward into a funny and thrilling commentary on class consciousness, the human condition, and the unseen fabric of life itself which ties it all together.
After an incredible opening scene, BEEF lays out an initially comedic premise, and stars Steven Yeun (as Danny) and Ali Wong (as Amy) are very funny. Wong is obviously a well-known stand-up comedian, and Yeun is famous for The Walking Dead, Minari, Nope, and many other titles; however, this is undoubtedly the best work each has ever done, which is saying a lot.
After having worked together on Tuca & Bertie (which was partially co-written by the creator of Beef), the pair have developed a chemistry and a similar sense of humor that gels wonderfully. They run the emotional gamut here, and portray these difficult characters with total openness.
Netflix
A24
Director Jake Schreier brings the same energy and motion he's brought to many music videos, along with the quiet comedy he captured in titles like Robot & Frank and Lodge 49. The mononymic director Hikari, who stunned with her film 37 Seconds, does a beautiful job with the pilot and a couple other episodes. Almost every decision made behind the camera seems perfect for BEEF in hindsight (give or take the '90s alt-rock soundtrack, which certain people may despise, but which probably captures the generation of the main characters).
Related: How the Ali Wong Specials on Netflix Are a Great Pick-Me-Up Right Now
Lee Sung Jin directs the final episode, his first directorial effort, and if it's any indication, he will have a wonderful career as a filmmaker. While some people may wish the show's narrative ended with the penultimate episode, the 10th chapter of this story is crucial to bringing together the themes and motifs of the whole series, and the ending of BEEF is truly euphoric.
A Beefy Blood Feud
Netflix
A24
Throughout its 10 episodes, BEEF alternates its time between the lives of its two protagonists and their families, now irrevocably intertwined by the road rage incident. Danny and his family (an intimidating David Choe as his amoral cousin Isaac, and a sweet Young Mazino as his naive brother Paul) are working class, down-on-their-luck handymen running a failing construction business. Amy and her family (Joseph Lee as her hapless husband George, and Remy Holt as her adorable daughter June) are wealthy, mostly thanks to Amy and her business.
They're socioeconomic opposites, but they're equally miserable. When the feud begins, it's almost like it has given these two people something to live for, an exciting spark of life. More importantly, it gives them someone to blame. Like the Montagues versus the Capulets in Romeo & Juliet, or the Glanton gang versus everyone in Blood Meridian, this is a dance that will not end well.
Related: Best American Movies with an Ensemble Cast of Asian Characters, Ranked
In a feud, nobody is right and nobody is wrong; everyone is guilty. If it wasn't this way, there'd be peace in the Middle East by now, and American politicians and newscasters wouldn't be discussing the idea of another civil war. When put in this context, BEEF is endlessly elucidating. It not only shows how these things start (unhappiness, scapegoats), but how they transpire and how they could possibly end.
The Eventually Hopeful Meaning of BEEF
As funny as BEEF can be, it's also incredibly suspenseful at times, and plunges headlong into dark, difficult territory by the end. If it didn't, it wouldn't be nearly as enlightening and poetic. The series uses comedy and suspense to carry its plot, and is anchored by incredible performances, but is all tied together by an ambient philosophical and spiritual mindset which truly comes to a head in the unusual yet stunning final episode.
Each episode of BEEF is titled with a few words from a quote, be it the writing of Iris Murdoch, the philosophical musings of the two great Simones (de Beauvoir and Weil) and Carl Jung, or Sylvia Plath's poem Elm, which itself provides a haunting summation of the show: "What is this, this face, so murderous in its strangle of branches?—— Its snaky acids hiss. It petrifies the will. These are the isolated, slow faults. That kill, that kill, that kill." BEEF wonderfully captures that almost irrational response us humans have when we feel slighted, or that life is unfair; as if our willpower is petrified, we lash out with childish anger that occurs without reason, before any reason, to paraphrase Weil.
Again, it sounds like an ignorant exaggeration, but watching BEEF can be life-changing, if only for a peaceful moment, for anyone who is consumed with anger toward someone or something. Looking at comment sections on the internet or watching the news, it seems that a lot of us fit that category. What are we doing to ourselves and each other? In all its wry humor, gripping tension, and heartbreaking, perceptive moments, BEEF shows us, and then it offers us a solution.
From Silly Pipe Dreams, Universal Remote, A24, and Netflix, all episodes of BEEF can be streamed on Netflix beginning April 6.
You can view the original article HERE.