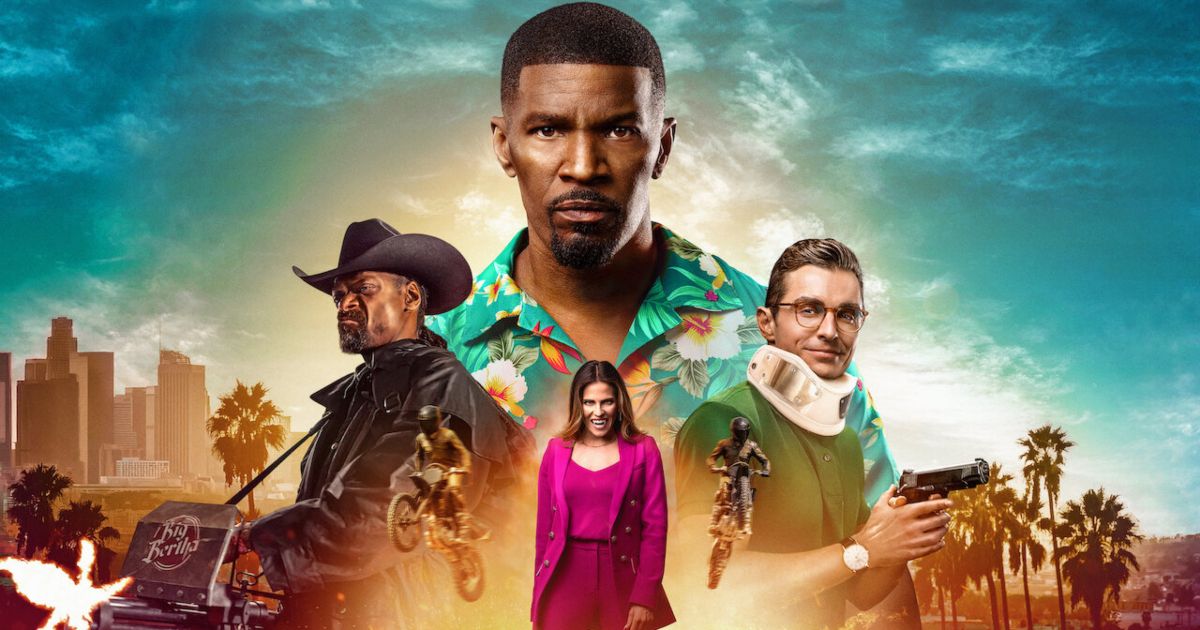 Stuntmen and stunt coordinators are arguably better than anyone (outside John Woo) at directing action movies; it seems utterly obvious, but they aren't often given the opportunity to do so. Ever since stuntman Hal Needham, who did stunts for The French Connection, convinced Burt Reynolds to let him direct Smokey and the Bandit, stunt coordinators have been making huge action films. Atomic Blonde, Extraction, Bullet Train, Hobbs & Shaw, and every John Wick have all been directed by stuntmen, and now J.J. Perry is throwing his hat into the ring with Day Shift, a new vampire horror-comedy on Netflix.
MOVIEWEB VIDEO OF THE DAY
Perry brings a unique working-class sensibility to the film, a story about a father who has been kicked out of the union of vampire hunters; he now uses a job as a pool cleaner as subterfuge to disguise his renegade, unsanctioned vampire hunting. His side hustle can't sustain his family when they need some fast cash, so he attempts to get in good graces with the union once again, ignorant to the fact that a new kind of vampire is hunting him.
Pool Guy: Vampire Slayer might sound like a bad low-budget premise that would fall apart under the weight of its own stupidity, but it's undeniable from the very first minutes of Day Shift how much professionalism and utter skill are on display here. If only the film could keep up with itself.
Jamie Foxx and the Best Action Sequence of Day Shift
Netflix
Jamie Foxx is delightful as Bud Jablonski (with assumedly no relation to the Polish molecular physicist), and seems to be having more fun than he's had since Baby Driver. Many may have forgotten just how funny Foxx is, and how he started off as a comedic force to be reckoned with in The Jamie Foxx Show, Roc, and In Living Color. His comedic instincts haven't aged a bit in three decades (and he looks better than ever here), as Foxx leans into the ridiculous nature of Day Shift with gusto. He has an energy similar to Bruce Willis in Die Hard here, and seemingly ad-libs some great little comic non-sequiturs throughout the film with total ease (like when he orders yogurt and asks if there's a Black History Month discount).
Day Shift begins with Jablonski cleaning a pool before suiting up with guns and blades to investigate a house that doubles as a vampire crypt. Barely five minutes into Day Shift, Foxx blasts an old woman in the chest with a shotgun; her hand twitches, and before the dust can even settle she's pulling herself up to the ground and revealing her true vampiric colors. This initiates what is honestly one of the best fight scenes in recent years, an incredibly choreographed and visually ingenious battle that is deliriously entertaining. This is the perfect incongruity that Day Shift aims for — a mixture of over-the-top moments, gruesome action sequences, and surprising comedy.
Related: Exclusive: Steve Howey Talks Netflix's Day Shift, Says Jamie Foxx is the GOAT
Perry hired real contortionists for several of the vampires in Day Shift, and when mixed with the stuntman's choreographic brilliance and Foxx's own stunt work, it's truly a sight to behold. Bodies twist in unimaginable ways, wooden bullets fly, and silver blades slice in what looks like a post-apocalyptic Cirque du Soleil bar fight. It's an entrancing scene that's simultaneously gory in its brutality and immensely intelligent in design, and makes for one of the best opening scenes of 2022. Unfortunately, it's a high that is never repeated throughout Day Shift, which makes the rest of the film feel like a downward slide into superfluity.
The Plot of Day Shift Bites Off More Than it Can Chew
Netflix
Nonetheless, there is great fun to be had on the way down. The way Foxx tosses aside a litany of small comedic gestures certainly helps the film as it barrels toward cliche-city, as Jablonski has a week to come up with thousands of dollars in order to keep his (separated) wife and daughter from moving to Florida. Meanwhile, Audrey San Fernando (Karla Souza), a very powerful vampire who is attempting to unite the different species of vampires to rule California in daylight with the invention of vampire sunscreen, is out for revenge against Jablonski.
Jablonski needs to get back into the union of vampire hunters (Local 8711) in order to make enough money to keep his family (because vampire teeth are worth money, for some inexplicable reason). Unfortunately, his reckless actions have gotten him kicked out multiple times for violating various codes, but his friend Big J (Snoop Dogg) is able to get him back in under one condition — that an uptight, rule-following desk jockey named Seth (Dave Franco) accompany him and ensure no code is violated.
Netflix
Thus begins the buddy cop portion of Day Shift, which is stuffed with overdone tropes but remains enjoyable because of Franco and Foxx's chemistry. Franco has quickly become one of the most endearing actors working today, and he's absolutely hilarious here. Even if his character is a bit underwritten and undergoes a fairly random change halfway through the film, Franco elevates each scene he's in with kindness, wit, and just great acting. Snoop Dogg is surprisingly good as well, playing a handsome cowboy who has apparently slept with everybody.
As can probably be surmised, there is a lot going on in Day Shift, and its already-long 114 minutes doesn't feel like enough time to cover it all. Multiple other characters and subplots are introduced, and major plot elements are rushed so much that it often feels like the film skipped a reel. There seem to be big gaps in the narrative here, as characters like Heather (Natasha Liu Bordizzo) suddenly come out of nowhere and become integral to the plot's progression without any prior character development for indication. Things happen with Seth, Big John, and Jablonski's wife and daughter that are either unearned or just downright unexplained.
J.J. Perry From Stuntman to Day Shift Director
Netflix
Despite the script's weakness, Foxx and (especially) Franco are charming, funny, and likable, and Perry keeps things accelerated in such a slick and energetic way that the film is usually entertaining regardless. Perry does some fascinating and clever things in Day Shift, and absolutely reveals his directorial skills here; with a better script, he could make the next great action movie. What he has done, though, is not just show his incredible talent at action sequences (which makes sense, coming from a stuntman and coordinator from Avatar, Iron Man, Haywire, and Star Trek Into Darkness) but also display his skill with actors, his patience with dialogue sequences, and his intelligence at bringing to life interesting themes.
Related: Explained: Why It's Time For a Best Stunt Oscar Category
Perry was raised (perhaps by a single mother) as very working class; he was passionate about martial arts, but his mom couldn't afford any classes, so at the age of eight he worked as a janitor for a martial arts academy in exchange for lessons. After he left the military (unfortunately one of the few options for people in poverty who want to get ahead in life), he began stunt work, very slowly making a name for himself after some uncredited roles. Over the past three decades, he's climbed the ranks and become one of the most respected people in the field.
This Working Class Vampire Movie Should Have Been Better
Netflix
Day Shift smartly reflects much of that working class sensibility. This is, of course, a movie about a pool guy who needs money. The main villain, Audrey, is literally a realtor vampire, something which says a lot in the midst of our current housing crisis. The film's emphasis on unions and the ability for the underclass to team together in such a fashion to fight the bloodsucking elite has unmistakable proletariat vibes. In many ways, Day Shift is the most blue-collar vampire movie ever made, and with a few rewrites and sharper teeth (or a transition into a limited series), could have been an immensely important film with enlightening messaging without losing any of its fun.
As it stands, Day Shift is a wildly uneven but usually entertaining action comedy with a great cast and one stunningly perfect sequence. Hopefully, it's a precursor to Perry's masterpiece. Day Shift, from 87Eleven Entertainment and Impossible Dream Entertainment, and produced by Shaun Redick, Yvette Yates Redick, Chad Stahelski, and Jason Spitz, is now streaming on Netflix.
You can view the original article HERE.